Love. Courage. Home.
As the nation marks 100 years since the start of the First World War, commemorations have spread to the online world, with people's sentimentality shining through in the tweets they are sending.
As well as using its own records, family history site Findmypast has monitored social media to build up a picture of how people are talking about the war.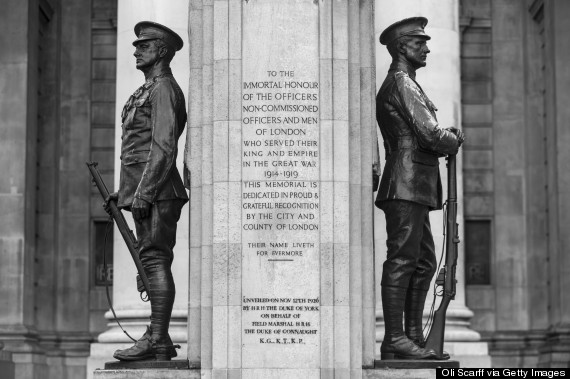 The First World War began 100 years ago tomorrow
The site, which has more than 26 million First World War records online, found that in July alone there were more than 57,000 tweets tagged with #WWI or #WW1.
By analysing the trends people have been talking about on Twitter, Findmypast said in those 57,000 tweets people were being hugely sentimental about the Great War, with: 1674 mentions of love; 139 about courage; and nearly 1200 mentions of home.
888,246 poppies have been placed at the Tower of London to remember the dead of #WW1 #NeverForget 🇬🇧 #WW1centenary pic.twitter.com/yvKE772pqr

— Carl (@AirForce_Carl) August 3, 2014
Poetry was a hugely shared topic, with 397 tweets mentioning poem, and 578 mentioning poetry.
Wilfred Owen was the most talked about poet, with 270 tweets mentioning the author of Anthem for Doomed Youth, compared with 92 about Rupert Brooke; 49 referring to Siegfried Sassoon; and 31 about Rudyard Kipling.
And 25 people quoted Owen's famous poem Dulce et Decorum Est when expressing their feelings online about the war.
One of the biggest discussion topics online was specific battles, with 1,552 tweets on Ypres; 1419 on the Somme; but only 283 on Gallipoli - the scene of major Allied failure and the death of around 10,000 Australian and New Zealand troops.
Politics was mentioned less last month in relation to the war, according to Findmypast, with Great War rallying hero Kitchener only getting 173 tweets, compared to Churchill, who did not play a central role in the First World War, receiving 714.
Few people mentioned the spark that lit the touchpaper of the war, with just 170 tweets mentioning Archduke Franz Ferdinand, and only 172 tweets mentioning German emperor Kaiser Wilhelm.
With more than 26 million World War One records online, including more than six million on the army, 168,833 on the navy, and 625,785 on the air force, Findmypast has been helping many families research what their grandfathers (215 tweets) and even great-grandfathers (27 tweets) did during the war.
Its exclusive collection also covers the Red Cross (17,548 records); nurses on the frontline (8,093 records) and newspaper pages from more than 70 different publications during the conflict.
The site's military expert Paul Nixon said: "The First World War was a pivotal moment for society and it is no surprise that so many people are talking about this online.
"Sadly no-one is now alive who fought in the First World War, and so we're hoping that by making more records available online we'll be able to help more people across the UK understand the history of their ancestors during the war."