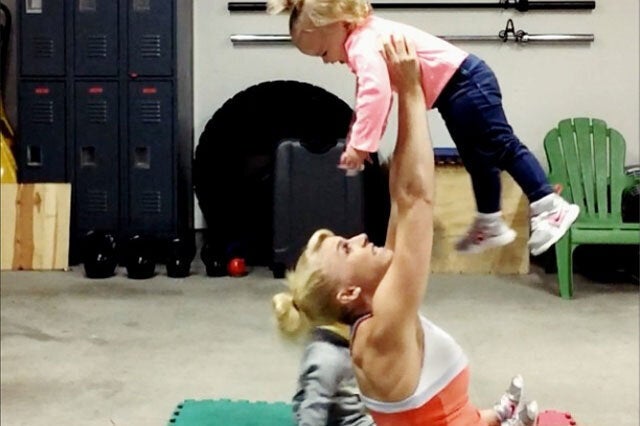 Who needs weights to stay in shape when a mum has babies to bench press? That's the philosophy of mum-of-two Lauren Rodgers who loves working out so much she uses her one and two-year-old daughters as living barbells to keep fit.
Lauren, who lives on an air force base in Alaska, shows how she literally juggles motherhood with body-building on her Instagram account bottlesandbarbells.
It might seem a bit extreme to some, but Lauren said she is merely setting a healthy example to her daughters.
She used to suffer from an eating disorder and says that being a mother is one of the things that drives her to choose health over her illness.
She wrote: "Being a mom is my main reason to be fit & healthy. I want my girls to have a good example in a world of obesity and eating disorders.
"I love seeing them try things that I do and ask to workout at ages 1 & 2.
"I love seeing them WANT to eat fruit & cottage cheese & veggies. Our kids are the next generation & if you want them to change the world, show them how."
She said even though being a parent to such young children might seem like a handful, when you're using your daughter as a weight, working out is a little easier and can be an activity the whole family can enjoy.
In one hilarious clip, she has one of her daughters on her front and the other as a weight from the back.
After popping into a perfectly formed handstand, Lauren goes on to do some push-ups with one of her girls and can even clap in between sets.
Lauren, her husband Denver, and their daughters like to make fitness a family routine.
In one video, Lauren and Denver lift their two girls on their shoulders.
It's not just the little ones who are lifted, though: Denver shows off his strength my bench-pressing his wife, too!