Israel has been accused of breaking the latest humanitarian ceasefire in Gaza within minutes after a missile strike on a refugee camp killed a young girl.
The seven-hour ceasefire, unilaterally declared by Israel, began at 8am British time today, is the seventh of the conflict since it began on July 7.
Within minutes, the IDF hit the beachfront Al-Shati camp in Gaza City, killing an eight-year-old girl and wounding 29 others, Reuters reported.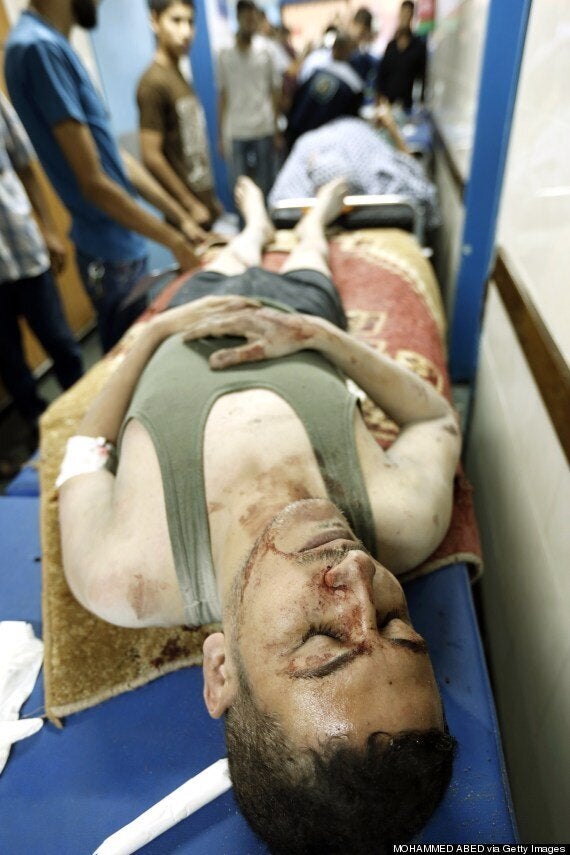 A Palestinian man, wounded in the Israeli air strike on the al-Shati refugee camp, lies on a stretcher at the al-Shefa hospital
Gaza City was expressly included within the areas where the ceasefire would apply.
Ashraf Al-Qidra, a spokesman for the Gaza Health Ministry, said the strike on a house in the camp happened after the truce was scheduled to start.
The IDF (Israel Defence Forces) said it was "checking the report" and could not confirm what happened.
The ceasefire was meant to apply to most of Gaza, except the southern town of Rafah, but the IDF said it would respond if it were fired upon.
A total of 1,797 Palestinians, overwhelmingly civilians, and 67 Israelis, mostly soldiers, have died since the conflict began on July 8.
Previous ceasefires have also been violated within hours of coming in.
The latest came after the US Government condemned the Israeli attack on the UN school in Rafah that killed refugees sheltering from the offensive, saying it was "appalling" and UN itself called it "criminal".
The school, in Rafah in the south of the Gaza strip, was hit on Sunday morning and was a designated protection location which the IDF were aware of and had the coordinates to.
In the current offensive, UN shelters have been struck seven times.
UNRWA, the agency that assists Palestinian refugees, says Israel was responsible every time.
An Israeli military spokesman said the bulk of IDF soldiers had been pulled out of Gaza after the military concluded it had destroyed most of the tunnel network.
Lt Col Peter Lerner said Israel had detected 30 tunnels, dug along the Gaza/Israel border, for a "synchronised attack" on the Jewish state.