'Coronation Street' actor Bill Roache has said that Ken Barlow will be making things difficult for Rob Donovan, who is responsible for the death of Tina McIntyre, now that he's back on the cobbles.
In dramatic scenes aired earlier this year, Rob beat Tina, playe by Michelle Keegan, to death with a metal pipe, and since then Ken's son Peter has been arrested for her murder, and is currently awaiting trial.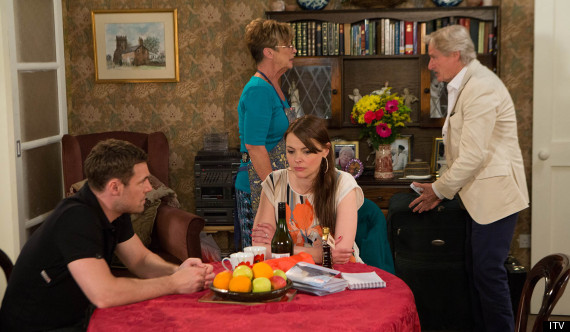 Ken Barlow is back on the scene
Ken's wife Deirdre had been keeping him in the dark about this, while he was caring for his sick grandson abroad, but now that he's returned to Weatherfield, Bill says Ken will be fighting his son's corner all the way… which Rob is not going to like one bit.
Bill told The Mirror: "Ken is fast becoming the thorn in Rob's side, if Ken hadn't returned and started this crusade to prove Peter's innocence Rob would have had no worries about the truth ever being found out. Now he is constantly panicking that Ken is going to unearth something that incriminates him."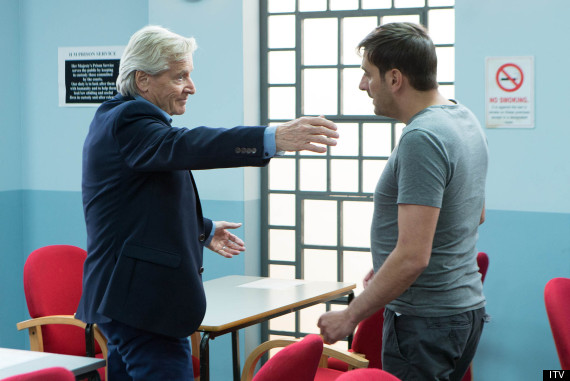 Ken visits Peter in prison, and reveals he's standing by his son
The soap legend also says that, while his character doesn't quite suspect that Rob is behind Tina's murder, he's less won over by the ex-con businessman than his wife is.
He added: "There is something about Rob that Ken doesn't like, he has had time to win Deirdre round, but Ken isn't sure about him, that doesn't mean to say he thinks he has anything to do with the murder. The fact that Rob is so certain Peter has done it is enough to wind Ken up."
Meanwhile, Marc Baylis, who plays killer Rob in 'Corrie', has previously said that he's anticipating a massive backlash from angry soap fans over his character's crimes, joking: "I think I will swim into work across the canal so no one can see me!"
Ken Barlow came back to the soap this week, after being temporarily written out of 'Coronation Street', while Bill Roache stood trial for committing sex offences. He was cleared of all charges.
LIKE US ON FACEBOOK | FOLLOW US ON TWITTER