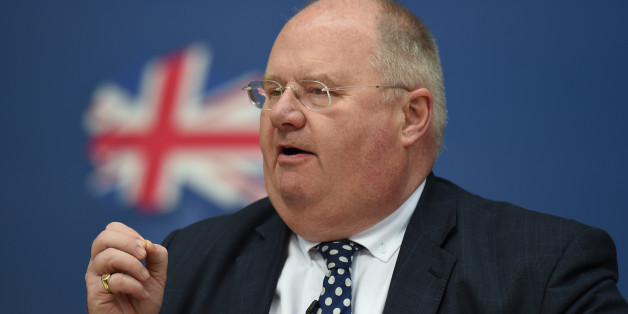 Joe Giddens/PA Wire
David Cameron has been criticised for appointing communities secretary Eric Pickles as the new faith minister, given his "divisive" views on religion.
Pickles was given the brief on Wednesday following the resignation of its previous holder, Foreign Office minister Baroness Warsi earlier in the week over government policy towards Gaza. However the National Secular Society has called for the position, created for Warsi, to be abolished.
In April, Pickles said "militant atheists" needed to "get over it" and accept that Britain was a Christian country. "Don't impose your politically correct intolerance on others," he said.
Writing on The Huffington Post today, Stephen Evans, the campaign manager of the National Secular Society said Pickles' past comments showed he was biased against people who were not religious.
"Many secularists may be glad to see the back of Sayeeda Warsi, but regretfully, rather than using this opportunity to abolish her unnecessary and deeply anti-secular ministerial position, David Cameron has shifted the responsibility over to the evangelically Christian Secretary of State for Communities and Local Government, Eric Pickles," he said.
"The promotion of religious tolerance and stronger communities are noble and legitimate aims, but these objectives are fundamentally undermined by the part of the brief that creates a ministerial responsibility to promote religion and 'celebrate faith'. But this is a clearly a brief that suited Baroness Warsi's, and now Eric Pickles' personal predilections."
Warsi, a former chair of the Conservative Party, was the first Muslim full member of the Cabinet. She dramatically quit the government on Tuesday.
"Baroness Warsi made it her mission to misrepresent secularism and use every opportunity to deride secular principles. Her successor, Eric Pickles, is equally guilty of wilfully misrepresenting secularism," Evans said.
"The existence of such a post simply entrenches religious privilege by giving the religious, or perhaps their self-appointed 'faith leaders', undue voice and influence in public policy. Such a post also feeds sectarianism and leaves citizens without a religious faith feeling alienated, less valued, and somewhat disenfranchised."
"One major objective of secularism is to balance everyone's religious rights and freedoms fairly. This naturally includes the rights and freedoms of the non-religious and those of minority religions. Yet Mr Pickles chooses to portray this as secularists trying to "impose" their "politically correct intolerance" on others. It is this lack of even-handedness that is most troubling about the role of the minister for faith, and those that have been chosen to fill it."
He added: "Ministers are encouraged to peddle their divisive rhetoric, regardless of the negative consequences for our politics and wider society."
In April Cameron sparked controversy when he declared that the UK remains at its heart a "Christian country". The prime minister insisted that followers of the faith should be unashamedly "evangelical" about their beliefs.