The Duke of Cambridge is to take to the skies once more and train as an air ambulance pilot before taking up a full time role next year.
William will begin a civilian pilot course next month followed by dedicated 999-response training.
If successful he will join the East Anglian Air Ambulance based at Cambridge Airport next spring.
Story continues after slideshow...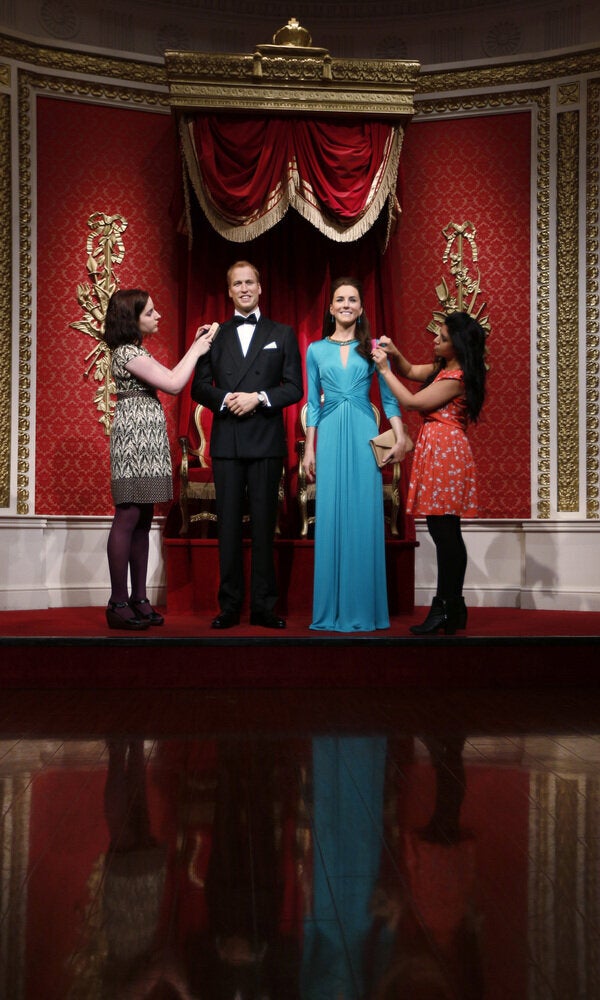 Le Prince William «actualisé» au musée Tussauds
The role will be his main job but his roster will take into account the duties and responsibilities he will continue to undertake on behalf of the Queen.
He will be paid a salary which he will donate in full to the charity.
A Kensington Palace spokesman said the Duke is "very much looking forward to" the next step in his career.
Patrick Peal, chief executive of the East Anglian Air Ambulance (EAAA), welcomed the announcement, saying the organisation would benefit both from William's skills as a pilot and from a boost to the charity's profile.
Peal added: "This is really good news for the charity and we're delighted His Highness has decided to fly with us.
"We are confident this will help raise the profile of the charity and other air ambulance charities in the region and across the UK.
"We're very fortunate that we currently enjoy tremendous levels of support but fundraising is always a challenge - we're looking to raise £7.5 million a year to continue the lifesaving work - and I'm sure that this will help to raise the profile of the charity.
"We're looking forward to him being part of the team.
"It is a very close-knit crew with the pilot operating closely with the doctor and paramedic so we need a strong team in every operation we go on."
There had been speculation surrounding the move since William, who is qualified to be a captain or pilot of a Sea King helicopter, ended his active service as an RAF Search and Rescue pilot in September last year.
His main duties will involve flying an EC145 T2 aircraft, working alongside medics to respond to emergencies ranging from road accidents to heart attacks.
The Duke will fly missions in Norfolk, Suffolk, Cambridgeshire and Bedfordshire.
As new parents, William and Kate are expected to split their time between their new home at Anmer Hall near Sandringham in Norfolk and their apartment at Kensington Palace.
Cambridge Airport is well placed with transport links to both.
Alastair Wilson, the charity's medical director, said he felt the Duke was well-suited to the role.
"He's an extraordinary person and it's just great that he wants to come and do something like this and fly with a charity like the air ambulance," Wilson added.
"The pilot is part of the team and he will be looking after patients with conditions that would be horrifying for many and some pilots may not like that very much.
"Compared to his role as a search and rescue pilot, he may be dealing with more injury patients than he is used to, but I'm sure he will adapt very well to that."
The EAAA currently operates two helicopters and employs three pilots in Norwich and three in Cambridge.
Along with a pilot, each helicopter carries a doctor and a paramedic.
Before beginning the new job, William will be required to gain an air transport pilot license to complement his military training and undergo training specific to his new role.
In order to gain this licence, he must complete five months of training followed by 14 exams and a flight test.
Initially he will be employed as a co-pilot but, after a period of training, William will be qualified as a helicopter commander.
A palace spokesman said: "The job will build on the Duke's operational experience in the Royal Air Force Search and Rescue force.
"During this time he undertook more than 150 search and rescue operations."
The announcement further strengthens ties with the city from which William takes his title after he completed a 10-week agricultural course at the University of Cambridge earlier this year.