Two South African students are facing expulsion from their university after dressing up as black maids and posting the pictures on Facebook.
The pair, from the University of Pretoria, donned the costumes for a friend's party. After smearing their faces with brown paint and shoving pillows down their skirts, they posed for pictures, which were then plastered over Facebook, the African Spotlight reported.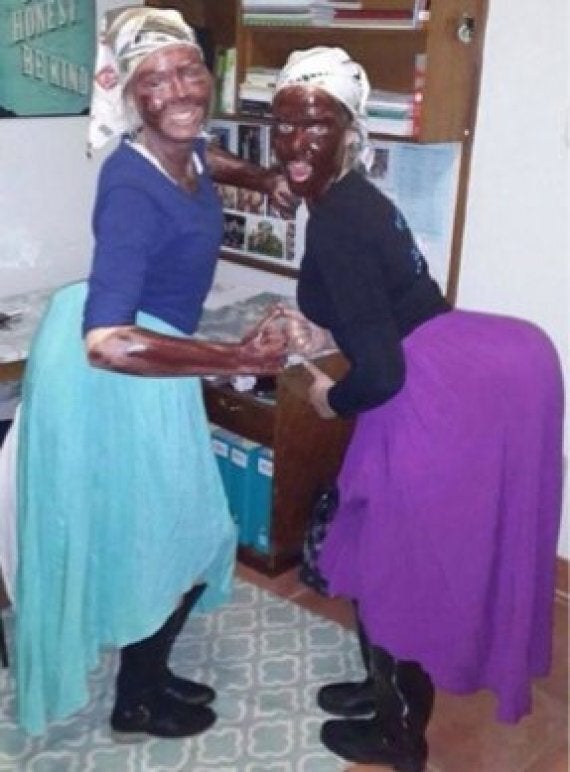 The students pose, thumbs up, in their costumes
A spokesperson for the university told Eyewitness News the students would be punished for bringing the institution's name into disrepute.
The students have been kicked out of their campus residence, but not from university, City Press reported.
The South African Students Congress (Sasco) said it was angered by the picture and accused white people and the university of teaching its youth to disrespect black people.
"It is clear to us that the white community, assisted by institutions of white privilege like UP, is teaching white youth to disrespect and poke fun at black suffering," Sasco president Ntuthuko Makhombothi said.
"We have absolutely no confidence in the supposed disciplinary action the university seeks to institute against their precious white students."
Makhombothi said the picture was "racist to the extreme".
"Black women in our country continue to suffer from triple oppression as black, female and working class. This incident ridicules the situation of black women in our country and reinforces racist stereotypes about our mothers."
According to News24, the incident comes just days after the South Africa Human Rights Commission said that there had been a spike in racism related incidents, particularly at universities around the country.
Popular in the Community