'The Inbetweeners 2' might be doing the business at the UK box office, but it sounds like behind the scenes things didn't run quite as smoothly, with the cast revealing a particularly grim mishap involving a kangaroo.
The sequel to the massively successful original 'Inbetweeners' film, released in 2011, sees the four pals heading to Australia to explore life Down Under, with predictably embarrassing and toe-curling results.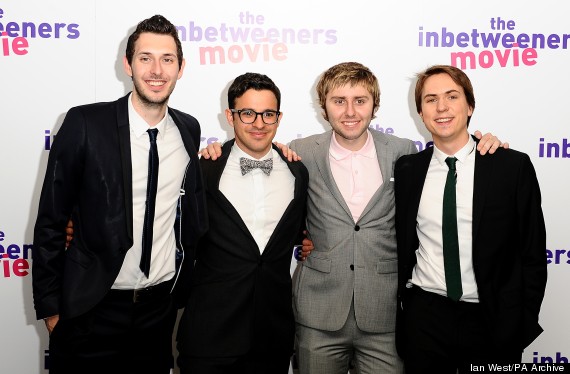 The cast of 'The Inbetweeners 2'
However, in a new interview to promote the film, the four actors reveal that the unfortunate incidents weren't just restricted to the on-screen action, as they did manage to slightly reduce the kangaroo population whilst they were in Oz.
As James Buckley, who plays Jay, explains: "It was an accident. What it was... there was a mate of mine that turned up in the outback to come and have a drink with me. He traveled all the way from England for a pint, and on his journey in… he did hit a kangaroo.
Simon Bird - better known as 'briefcase w**ker' Will - then pipes up: "But they're rodents, aren't they?"
The group were then asked to sum up the film in one word, to which they responded, "rude", "flies", "penises" and "vomit", which sounds like business as usual for 'The Inbetweeners'.
'The Inbetweeners 2', which hit cinemas on Wednesday, has already broken UK box office records and brought in more money on its first day than any other comedy film, beating the record previously held by the first 'Inbetweeners' film.
However, fans will be sad to hear that the current film will be the last in the franchise, as revealed earlier this week.
LIKE US ON FACEBOOK | FOLLOW US ON TWITTER