"I had compartmentalised it," John tells HuffPostUK. "When it happened, it was horrible and the movie came out in the US and I stopped talking about it. I hadn't talked about it in a long time, and it's not the experience I wanted to have.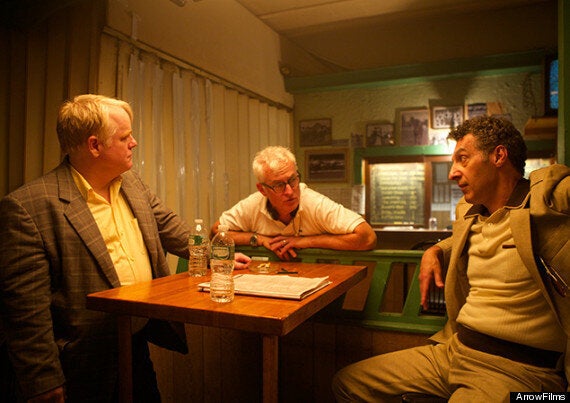 John Slattery directs Philip Seymour Hoffman and John Turturro in 'God's Pocket'
"I'm glad I had the chance to work with him, but I wish he was here. He was meant to be here with me talking about this movie. He really loved this movie, he enjoyed it, we had a great time making it together, so it's taken a lot of the enjoyment out of it, certainly."
His sadness aside, John Slattery is satisfied with his efforts to bring to the screen the book 'God's Pocket'. a darkly comic tale peppered by strong characters, who find sympathy and humour in their quest for survival in one of Philadelphia's working-class neighbourhoods. As well as Philip Seymour, John Slattery draws strong, distinctive turns from Richard Jenkins, John Turturro, Eddie Marsan and his 'Mad Men' castmate Christina Hendricks.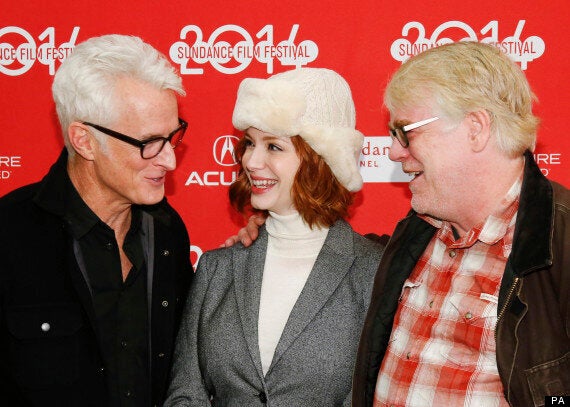 John Slattery says he wasn't nervous about about how it would be received - "if everyone told you they loved everything you did, you'd just stop" - but about the mechanics of getting it all done, with a huge cast with many demands on them, and setting the piece in its right period.
You'd think he'd be used to it after his years as silver-haired charmer Roger Sterling in 'Mad Men', but he laughs. "Back then, it was always someone else's problem." He does thank his time on the show, though, for opening doors to his future creative offerings, after he's had some serious time "doing nothing, I mean literally nothing."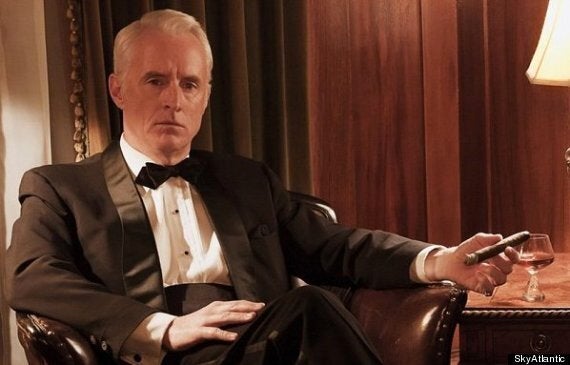 John Slattery in suave mode as 'Mad Men's Roger Sterling
Of his present purple patch, he says:
"I'm glad it happened now. All those clichés – youth is wasted on the young. There are things you don't understand emotionally because you're too young to get it. Mortality for one thing, the finite quality of this experience becomes clearer and clearer the older you get, thereby you appreciate it. With that understanding, each moment becomes a little more vivid."
'In God's Pocket' is in UK cinemas from today. Watch the trailer below...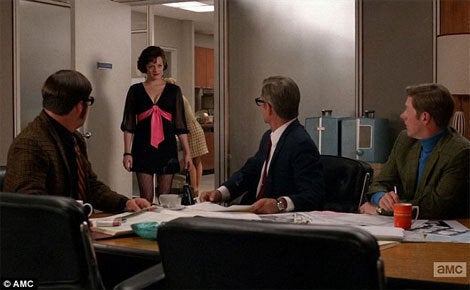 "Mad Men" Style