These incredible pictures have emerged, showing the desperate plight of members of Iraq's Yazidi religious minority as they hide from the Islamists who call them "devil worshippers" and will kill them if they try to return to their homes.
The Yazidis are a small community that follows a 4,000-year-old faith and have been repeatedly targeted by jihadists who call them "devil-worshipers" because of their unique beliefs and practices.
Islamic State (IS) - formerly known as ISIS - jihadists ousted the Peshmerga troops of Iraq's Kurdish government from the northern Iraqi town of Sinjar, forcing thousands of people from their homes.
The images show them trapped on Mount Sinjar, where they are surrounded by the Islamist militants and desperately in need of food, shelter and water.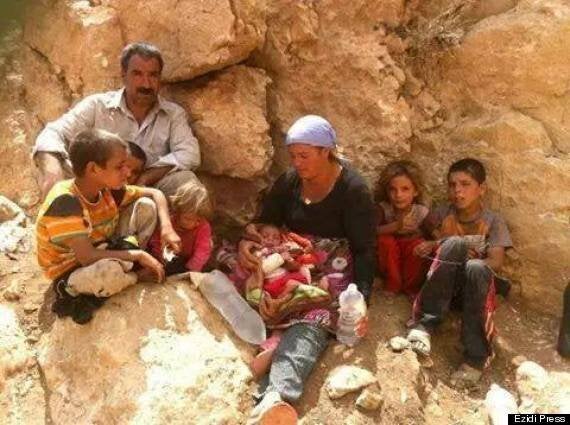 A Yazidi family on Mount Sinjar
David Cameron has insisted the world must help the Yazidis in their "hour of desperate need", as he backed US airstrikes to protect them - but ruled out UK military action, while condemning the "barbaric attacks" by IS.
Today, the US confirmed it had begun those airstrikes.
Britain is to drop relief supplies to support the refugees but will not intervene militarily.
Following a meeting of the Government's Cobra emergencies committee, Defence Secretary Michael Fallon said he hoped the relief operation - could begin "in the next couple of days".
He said Britain was also ready to offer "technical assistance" in support of US humanitarian operations to aid the refugees.
"What we have decided today is to assist the United States in the humanitarian operations that started yesterday," he said.
"We are offering technical assistance in that in terms of refuelling and surveillance. We are offering aid of our own which we hope to drop over the next couple of days in support of the American relief effort, particularly to help the plight of those who are trapped on the mountain."
The Yazidis on Mount Sinjar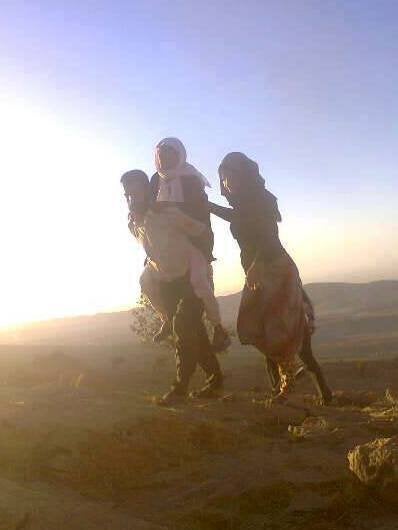 Yezidis refugees on Sinjar Mountain
Cameron welcomed Obama's decision to accept the Iraqi government's request for help and to conduct airstrikes if necessary to help Iraqi forces "fight back" to free the trapped civilians.
He added he has tasked officials to urgently establish what more can be done to help those people affected.
Cameron said: "I am extremely concerned by the appalling situation in Iraq and the desperate situation facing hundreds of thousands of Iraqis. And I utterly condemn the barbaric attacks being waged by ISIS terrorists across the region.
"I am especially concerned for the minority Yazidi community now trapped on Mount Sinjar, where they have fled for their lives.
"They fear slaughter if they descend back down the slopes but face starvation and dehydration if they remain on the mountain. The world must help them in their hour of desperate need."
He continued: "Last night, the UK chaired a meeting of the United Nations Security Council to ensure a strong international response to the crisis and this morning the Defence Secretary will chair a Cobra on the issue.
"I have tasked officials to urgently establish what more we can do to provide help to those affected, including those in grave need of food, water and shelter in the Sinjar area.
"I welcome president Obama's decision to accept the Iraqi government's request for help and to conduct targeted US airstrikes, if necessary, to help Iraqi forces as they fight back against Isil terrorists to free the civilians trapped on Mount Sinjar.
"And I fully agree with the president that we should stand up for the values we believe in - the right to freedom and dignity, whatever your religious beliefs."
Former defence secretary Sir Malcolm Rifkind, chairman of the Intelligence and Security Committee and former foreign secretary, said the US was right to intervene.
He told BBC Radio 4's Today programme: "The United Nations has what is often referred to as a responsibility to protect. That's a general statement but means when you have some potential humanitarian disaster on a vast scale then you can't just sit back and say how sad it is, you have to try and intervene.
"Here we have a total of 150,000 people who have fled from their homes and in danger of losing their lives."
Sir Malcolm said the political advance of Isil in northern Iraq was up to the Iraqi government to resolve, adding it would not be in a position to deal with it until it reformed.
He said the world could not "directly intervene" in that area but limited action could be taken to address the "specific humanitarian threat".
Sir Malcolm said he had always thought the Iraqi war in 2003 was a mistake and an "extremely foolish exercise" which has caused "massive instability" but noted Syria was perhaps in an "even worse mess".
He said: "One can't simply say this (in Iraq) was all caused by the war of 10 years ago but there is no doubt that war and the aftermath of it caused a fundamental split between the Sunni and Shia population, created instability and ungovernability in many places in Iraq and therefore has certainly contributed to the terrible drama we're seeing at the moment."
Related