Joan Rivers has responded to critics, who were less than pleased with her latest political rant, which saw her declare that Palestinian civilians in Gaza "deserve to be dead".
Video footage shows the veteran comedian being quizzed by a journalist about the mounting death toll in Gaza, and she's typically candid with her shocking response.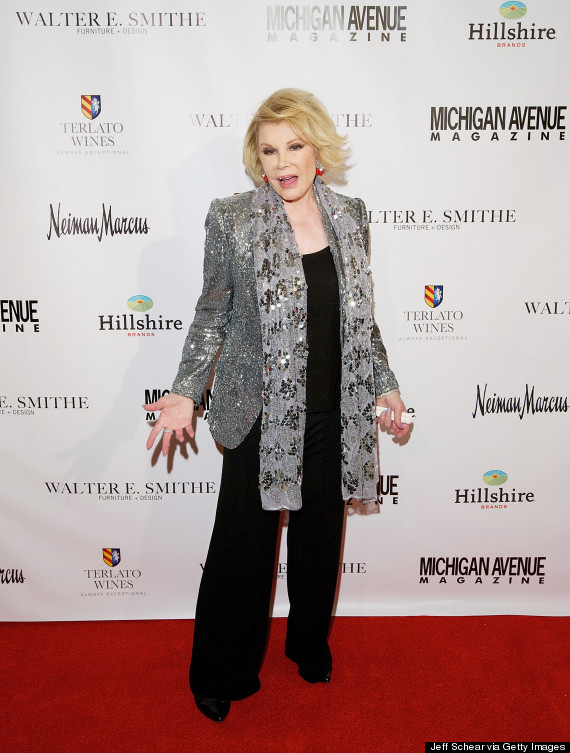 Joan Rivers
Joan replies: "The dead? You deserve to be dead. You started it. Don't you dare make me feel sad about that."
She's then reminded that 2000 civilians had been killed, but the 'Fashion Police' host does not back down, adding: "Tell that to the people in Hiroshima. When you declare war, you declare war. They started it."
After being slammed by critics, Joan has responded with a Facebook post.
She writes: "I am both saddened and disappointed that my statement about the tragedy of civilian casualties was totally taken out of context. What I said and stand behind is, war is hell and unfortunately civilians are victims of political conflicts. We, The United States, certainly know this as 69 years later we still feel the guilt of Hiroshima and Nagasaki."
Joan also claims the press have tried to sensationalise her statements by taking them out of context, saying: "The media, as usual, has decided to only quote the most out of context and inflammatory non sequitur rather than giving an accurate account of what my intentions were behind the statement. Along with every other sane person in this world, I am praying for peace.
"It is stupid and wrong and I am tired of bearing the brunt of attacks by people who want to sell newspapers or gain ratings by creating a scandal about me that is non-existent."
In the video rant which sparked the outrage, Joan states Hamas were "elected by a lot of stupid people", explaining: "They [The Palestinians] were told to get out. They didn't get out. You don't get out, you are an idiot. At least the ones that were killed were the ones with low IQs."
A number of people took to Twitter to slam the comedian shortly after the video began circulating.
"I am SPEECHLESS. Joan Rivers is on tape saying the the Palestinian civilians "deserved to die". Vile, disgusting human being," writes one, while another has posted: "Palestinians deserve to die? Are u dumb? If someone invaded ur house and told u to get out, would you? You dumb piece of dung!"
Joan is well-known for making outlandish comments and has previously been accused of overstepping the mark after joking about Adele's weight and criticising Kim Kardashian's daughter North.
LIKE US ON FACEBOOK | FOLLOW US ON TWITTER