With less than three weeks to go until the transfer window slams shut Manchester United supporters are starting to resemble Arsenal's following last year. It is not a case of "spend some fucking money" but rather "buy some fucking players" to improve a squad described by Louis van Gaal as "broken".
Van Gaal's appointment as manager was confirmed in May, ostensibly to give United a head-start in the transfer market. They have acquired two players for £56 million in Ander Herrera and Luke Shaw, yet both were long-term targets and David Moyes even contributed to some of the legwork on both deals.
The club's executive vice-chairman, Ed Woodward, said last month "it is in our capabilities to spend £60m, £70m, £80m on a player" yet United aren't offering sums half that amount.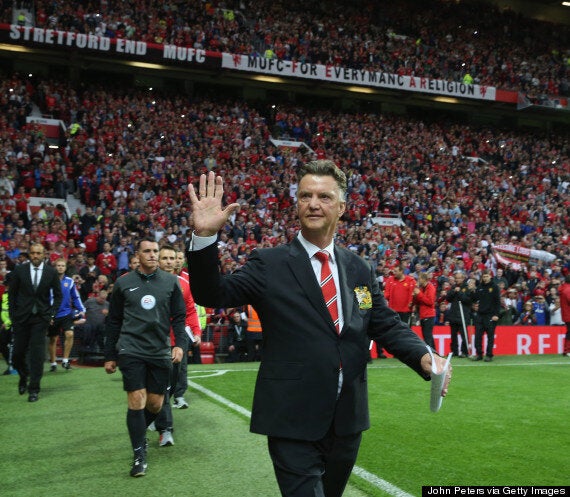 Inexplicably, a deal for Toni Kroos was cancelled. Last year's prime target, Cesc Fàbregas, has joined Chelsea and Arturo Vidal remains a Juventus player. United supporters were told there was "no fixed budget" by Woodward, which was like a summer blockbuster releasing its teaser trailer ahead of the forthcoming attraction. The fear is the feature could be stuck in development hell and United will begin the new campaign with a weaker squad than the one Moyes started last season with.
Paul Scholes spoke for the majority of United fans when he claimed Woodward "has an awful lot to prove this time that he's good enough at his job" and Van Gaal's public admiration of Angel di María will intensify the pressure on him. Paris Saint-Germain have ended discussions with the Argentine and United are riding in a one-horse race.
United have just three experienced central defenders. When it comes to being the biggest club in the world, sponsorship deals, attendance figures and an International Champions Cup trophy pale in comparison to who actually plays for the team.
Injuries to Luke Shaw and Jonny Evans mean United could field a back five of Reece James, Tyler Blackett, Chris Smalling, Phil Jones and Ashley Young against Swansea on Saturday. Suddenly, defenders have become more essential to Van Gaal's line-up than central midfielders, witnessed by Fletcher's promotion to vice-captain. Fletcher is one of the most likeable members of the United squad and it is a blessing he is able to prolong his career after illness, but his return to the first-team re-emphasises United's shortcomings.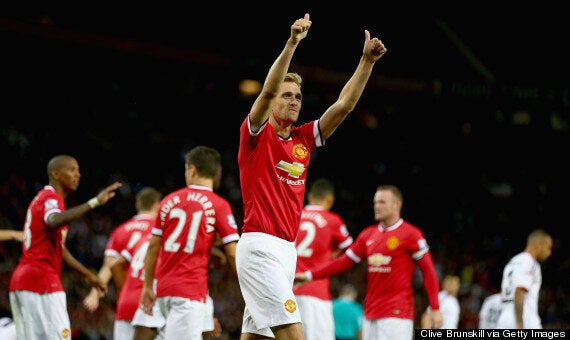 Darren Fletcher has enjoyed a drastic turn-around in fortunes at United
Borussia Dortmund have named Mats Hummels as their new captain, further dissuading United from making an offer. Arsenal's stubborn resistance to sell Thomas Vermaelen to United was a dodged bullet. Their pursuit of Vermaelen was a window into the enigmatic mind of Van Gaal, who valued the Belgian for his left foot, overlooking his disastrous displays over the last two years.
Van Gaal is not helping matters taking his time to judge which players will be culled. Some should have been sold before the Stateside tour, rather than brought along for an American road trip. Van Gaal will not suddenly turn Tom Cleverley into Arturo Vidal, make Anderson slim or entice an actual cross from Antonio Valencia. Valencia's three-year contract renewal in June was surreal. Consistently egregious for two years, his extension was an unambitious announcement.
The Netherlands overachieved in Brazil by finishing third, but knockout football can be unpredictable, and the chances of Van Gaal enjoying similar success with United over a 10-month league campaign are remote. United are a happier camp again after a fractious and cliquey season under Moyes, and certain players will improve thanks to the Dutchman's managerial change, hence why many reckon they will qualify for the Champions League.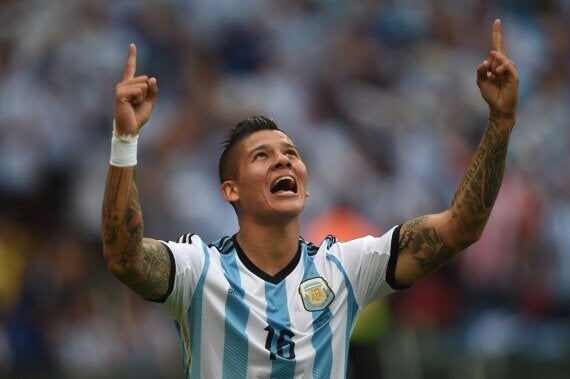 United want Marcos Rojo to ease the pressure on young left-back Luke Shaw
Moyes' aspirations of a midfield two consisting of Fàbregas, Koke, Paul Pogba or Kroos at least indicated he understood, belatedly, a club of United's stature required world-class players. Van Gaal is a demonstrably superior manager but supporters can be forgiven for the odd pang of doubt about the club's relative inactivity in the market. United have brought in the fewest amount of players of all the 20 Premier League clubs.
Van Gaal will relish the challenge, though, just as Sir Alex Ferguson did. He did not sign a central midfielder in his last six years as a manager despite agony at Anfield, batterings by Barcelona and a 6-1 humbling by Manchester City, yet still won three Premier League titles. Van Gaal's derives a Herculean effort from mediocre players.
Van Gaal stressed again on Tuesday night it will take time for United to gel and he is fortunate to have received a kind set of opening fixtures. After Swansea's visit, United face Sunderland, MK Dons, Burnley, Queens Park Rangers, Leicester and West Ham before the first leaves of autumn fall. United had lost three League games before October last year, but their followers won't be crying to be woken up when September ends this year.