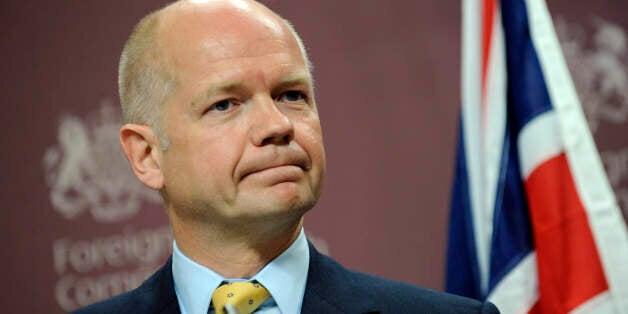 In one of his defining speeches as foreign secretary, William Hague set out his vision of creating a "revived and reinvigorated Foreign Office that leads thinking on foreign policy across government."
"It must be a Foreign Office with a clear sense of purpose, greater ambition, a stronger and in some cases expanded diplomatic network and even deeper skills and capability," he told diplomats in September 2011.
Is the Foreign Office being hollowed out? Warsi told the Sunday Times that Hammond, who is barely a month into his new job as foreign secretary, would not be operating to his "full potential" and suggested UK foreign policy was being decided in Downing Street, not King Charles Street. "I certainly don't think the decisions were being made in the Foreign Office."
In July's reshuffle, Hammond - who once confused Bashar al Assad with Saddam Hussein - took over the top job from Hague, after the latter signalled his intention to leave Parliament next year, while Tory MP Tobias Ellwood replaced Hugh Robertson as a minister for the Middle East. Since the reshuffle, Baroness Anelay has taken over from Baroness Warsi while backbencher James Duddridge has been rushed in to replace Simmonds - so quickly that his photo is still blank on the Foreign Office website.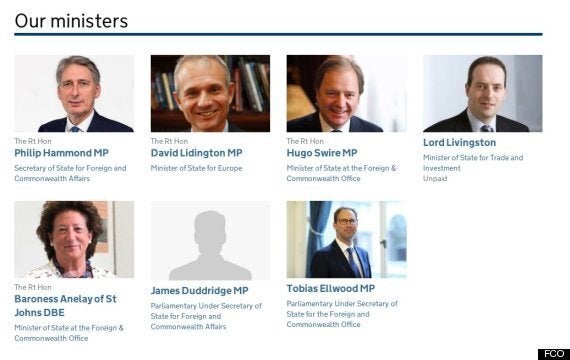 With Iraq in crisis and continued bloodshed in Gaza, the Foreign Office is now having to find its "clear sense of purpose" when dealing with these issues with a host of new - and inexperienced - ministers sat at the helm.
Of the seven current FCO ministers, only one - Europe minister David Lidington - has been in post since May 2010, while four of the seven have arrived at Great Charles Street only in the past 30 days.
This glaring lack of experience has already been seized upon by the Opposition, with shadow foreign office minister John Spellar warning that, on foreign affairs, "David Cameron's government.. risks looking increasingly rudderless, and characterised by confusion".
Tory MPs are also conscious of the need for direction from the top - backbencher MP Conor Burns told the Huffington Post UK that the FCO now has "no policy" on Iraq. "We are witnessing the slaughter of the innocent. Dropping food and water from the air while their Islamofascist killers approach is no policy."
To what extent, though, has this FCO implosion been provoked or caused specifically by the war in Gaza and the British government's strong support for Israel?
Baroness Warsi made clear that she could no longer stay in government due to her concerns about the UK's "morally indefensible" stance on Gaza and wrote in her resignation letter to the prime minister that there was "great unease across the Foreign Office, among both ministers and senior officials, in the way recent decisions have been made".
Have recent events vindicated her claim? The day after she quit, Channel 4 News revealed that her fellow FCO minister Hugo Swire, a former chair of the Conservative Middle East Council (CMEC), had also "discussed quitting" over Gaza.
While Mark Simmonds, who resigned on Monday, said he was departing government - and parliament - for personal reasons ("the lack of support available to MPs with families outside of London..has become intolerable"), it is worth noting that he has forcefully "condemned" illegal Israeli settlements in the past and warned that "the door is beginning to close on the realistic possibility of a two-state solution".
Former FCO minister Hugh Robertson, meanwhile, is another former CMEC office holder - as is current FCO minister Tobias Ellwood, who replaced him. The latter is said to share Warsi, Robertson and Simmonds' concerns over the government's Middle East policy but is too "junior and nervous to rock the boat," says a Whitehall source.
Then there is William Hague. As the Telegraph's Peter Oborne reported last week, in his role as shadow foreign secretary in the summer of 2006, Hague criticised Israel's "disproportionate" attack on Hizbollah in Lebanon which "caused problems" with Tory donors, the Conservative Friends of Israel (CFI) grouping and, of course, with the Israeli government. Hague's relations with the Israelis never really recovered.
The big question now, as the Middle East burns, is whether the Foreign Office itself will recover in the wake of all these resignations? To lose one minister might be regarded as a misfortune; to lose four in four weeks looks like carelessness.
Mehdi Hasan and Ned Simons contributed to this report
Related