Maloney, who has been backed by Lewis and other sporting personalities for telling her story, told the Mirror she could not cope with leading a double life.
"It got to a point where I just couldn't cope any longer. I couldn't go on and I had to end it," the father-of-three told the paper.
"It was emotional," she told the Daily Mirror, referring to her marriage breakdown because of her double life. "I knew I had come to the end of the road. I was living on my own and my daughter was carrying me through it.
"I was spending a lot of time abroad because I felt safe there. I would wander around outside dressed as a woman and it felt for the first time that I was being the real me. I was conscious of people staring at me but it never happened."
Maloney said she considered trying to continue living as Frank for the sake of her marriage. I had made a conscious decision to burn all the female clothes and go home and try to work it out with my wife, if she would have it. I went home that Christmas and it was an absolute disaster. So much so, that if I'm honest, I tried to kill myself that Christmas. I was swallowing pills like there was no tomorrow.
"I was downing heart pills which I had been prescribed and aspirins while drinking champagne. I just wanted to block it all out. I couldn't let anyone see me taking the pills, so I went out to walk the dogs with the intention of ending it.
"I'd always been told if you committed suicide in the house you lived in it meant you had something against the person you shared that house with and I had nothing against my wife. There was no chance of the marriage surviving. Coming back that Christmas was the worst thing I could have done.
"Trying to make it up as a couple again was stupid because it was over. The only escape was to end it."
"I had been starting to take the pills in the house and when I started to feel groggy I went out with more pills in my pocket to take. I was walking the two dogs and I started staggering. I lost balance and collapsed into some bushes.
"Thankfully I was found by a couple of people who recognised me as Frank Maloney and rang an ambulance. I could feel my dogs licking my face as I sensed where I was.
"I look back and I wonder why I tried to do it. I would have hurt my children terribly."
Maloney also thanked the public for the positive reaction she received, including comments on social media from former footballer Stan Collymore and boxing commentator Steve Bunce.
And she said she was unfazed by "idiots" who had written disparaging comments about her online. "They would never say it to my face," Maloney told the Sun.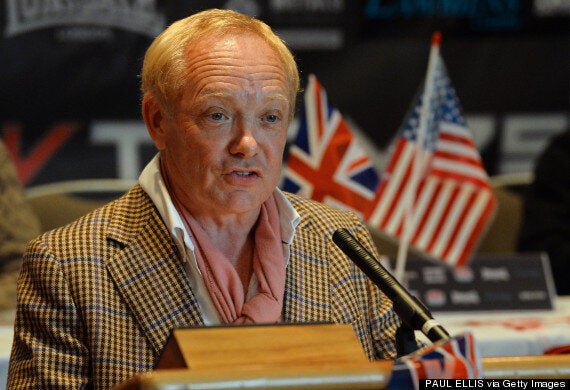 Sex change: Boxing promoter Frank Maloney speaks during a press conference in Liverpool on July 4, 2013
Lewis said he respects Maloney's decision. "I was just as shocked as anyone at the news about my former promoter and my initial thought was that it was a wind up. The great thing about life, and boxing, is that, day to day, you never know what to expect. This world we live in isn't always cut and dried or black and white, and coming from the boxing fraternity, I can only imagine what a difficult decision this must be for Kellie.
"However, having taken some time to read Kellie's statements, I understand better what she, and others in similar situations, are going through. I think that ALL people should be allowed to live their lives in a way that brings them harmony and inner peace. I respect Kellie's decision and say that if this is what brings about true happiness in her life, than so be it."
Maloney announced his intention to call time on his 30-year career with immediate effect last October. His decision brought an end to a colourful career which saw him guide Lewis to glory despite memorably being derided as a ''mental midget'' by US promoter Don King.