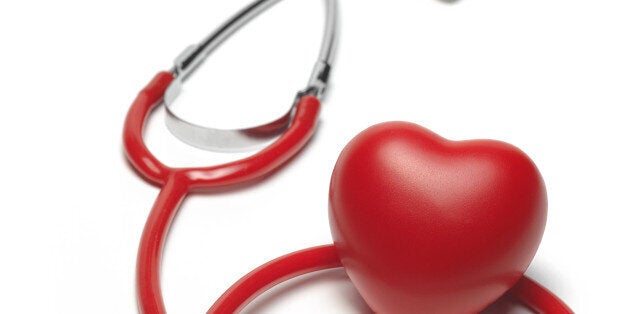 British scientists have launched a pioneering trial to see whether gene therapy can potentially replace heart transplants.
Lee Adams, a 37-year-old carpenter from Hertfordshire, is the first of 24 patients with advanced heart failure to be recruited.
Like all the other participants, he has been fitted with a mechanical pump to keep his blood flowing while waiting for a suitable donor heart.
The study is the first in the world to investigate the use of gene therapy in heart failure patients kept alive by a Left Ventricular Assist Device (LVAD).
Sixteen randomly chosen patients will be treated with a corrective gene to help their hearts beat more strongly. Eight others are to receive a "dummy" placebo therapy.
Mr Adams, who has had an LVAD for more than two and a half years, does not know which group he is in because the trial is "blinded".
He said: "Of course the best thing that could happen would be for my heart function to show signs of improvement and for the gene therapy to prove to be a 'miracle cure' for myself and other patients.
"But I'm not building up my hopes too much because, for all I know, I might have had the placebo. If it does prove to be successful it would be exciting for patients who need a transplant but end up on the waiting list for a long time because of the shortage of donors."
The therapy involves injecting a harmless altered virus into the blood stream to carry the corrective gene into heart muscle cells.
The aim is to raise levels of a protein called SERCA2a that plays an important role in heart muscle contraction.
Six months after the treatment, biopsies of heart muscle will be taken to see if the gene is present and functioning.
The hearts of patients who subsequently have transplants will also be examined, and participants will be tested for signs of recovery.
Patients are being recruited from Harefield Hospital, London and Papworth Hospital in Cambridgeshire.
Professor Sian Harding, head of the British Heart Foundation Centre of Regenerative Medicine at Imperial College London, who helped develop the treatment, said: "It's important to remember that the therapy is not correcting a gene defect. We are working much more downstream, which means that no matter what the cause of the heart failure, the therapy should be equally beneficial for patients whether their heart problems stem from genes, lifestyle or the environment or a mixture of all of these."
Heart failure occurs when the heart becomes too weak to pump blood efficiently around the body.
It often follows a heart attack, but can also be caused by high blood pressure, damaged heart valves, viral infections, and abuse of alcohol or recreational drugs.
The condition can also be triggered by faulty inherited genes.
LVADs are used to support the failing hearts of patients on the heart transplant waiting list. Currently between 100 and 150 people in the UK are fitted with the devices.
Consultant cardiologist Dr Nick Banner, who led the Harefield Hospital team that operated on Mr Adams, said: "Advanced heart failure is a progressive condition that results in a poor quality of life and shortened life expectancy. The best treatment currently available is a heart transplant but the shortage of donor organs in the UK means that many patients will die on the transplant waiting list.
"LVADs can keep some patients alive long enough for a donor heart to become available. The rationale for this study is to investigate the effectiveness of a new form of therapy, which might in the future be a viable alternative to transplantation."
Scientists will also investigate whether the therapy is effective even in patients with antibodies that target the naturally occurring version of the virus used to ferry the gene. Up to 60% of the population is thought to fall into this group.
The trial complements a larger on-going study, Cupid2, which is investigating the effectiveness of gene therapy in 250 US and European patients with less advanced heart failure.
Individuals with the antibodies were excluded from Cupid2.
Lead investigator Dr Alex Lyon, from the Royal Brompton & Harefield NHS Foundation Trust, said: "This particular virus is advantageous because it is not known to cause any human disease. However this means many people have been exposed to the virus without developing symptoms and therefore possess antibodies.
"If we exclude this group, then potentially a substantial number of heart failure patients would not be eligible to receive this therapy. If we demonstrate that the antibody does not block the delivery of gene therapy, many more patients could benefit."