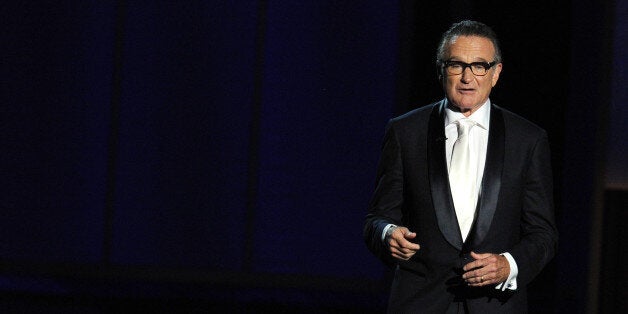 As the circumstances of Robin Williams' death surface - conclusions are being drawn that he took his own life - for many people, it is a shock. After all, Williams was known for his comedy and playfulness whether you loved him in Good Morning Vietnam, Mrs Doubtfire or Aladdin.
Yet despite his breezy, comedic exterior Williams struggled with depression all his life - one can only speculate that his drug abuse in earlier years was an attempt to self-medicate.
Depression and suicide are known bedfellows, and so at this point, we must ask ourselves whether we would be better served understanding mental illness properly - even if we aren't suffering ourselves - and allowing those who are suffering, to not suffer in silence.
For those of us who have never had depression, it is not breaking up with your boyfriend, or hearing some bad news. It's not even having a bad day when you just want to stay in bed.
"It's like a dark cloud that sits over everything," says psychotherapist Sheri Jacobson, clinical director of Harley Therapy who deals with this particular illness a lot. "It is a deep gloom that affects everything they do and how they perceive themselves."
Dr Raj Persaud, psychiatrist and HuffPost UK blogger adds: "My clinical experience of treating severe depression, including people who dip so low they need to come into hospital in order to save their lives is that two key events often lead to a suicidal act or self harm. These are a fear of a return of the depression if it was very bad before and whether early signs are returning - also feeling very isolated and not believing there is any hope can be a terrible predicament to find yourself in.
"People often find it difficult to broach the subject of depression or suicide with another person who they are worried about but in fact the evidence is it's better to address and confront these issues than avoid them."
So what would make someone with depression consider suicide?
Volunteer Sal Lalji from the Samaritans says: "Suicide is a really complex issue. A lot of people jump to conclusions that suicide is selfish but the reality is an individual who has got to their point that it is the only option. What we do know is when a person is in that mode, they often aren't thinking particularly clearly about their situation. They may feel worthless or helpless - that the future holds nothing good for them. And that the people around them would be better off if they weren't there.
"Things may have got to the point where they feel they have no way out and sometimes they feel very alone and have no one to talk to about the next steps forward and indeed, they may not see a place forward. They may decide to take their own life without realising the reality of how this will affect the people they leave behind."
Sheri adds: "It can be a physical pain like an aching – almost a torment - and that's the thing they want to escape from. It's not that they want to die, it's that they can't think of a reason to live."
For a lot of people who may have a loved one who is depressed or may have a history of feeling suicidal, it is common to feel helpless. But, Sal, says, there is something you can do.
"See how they are doing - have a look at their activities their mood swings, how their activities may be changing. And it is important to have that conversation to talk to someone about how they are feeling - to even broach that conversation around suicide. Because often, when that conversation opens up that person may feel relieved that they can talk about it."
Sheri agrees. "The best thing is forming a supportive relationship. It doesn't mean being directive or judgmental; it means being there for them and sometimes tolerating their stress and intentions. It's good to talk about rather than sweep it under the carpet. This is a common myth: people think if you raise the idea of suicide you may cause it, but the intentions are already there."
Also, the Samaritans offer that service if you can't talk about it.
"If you're worried about someone you can ask the Samaritans to call them if you think they may not call themselves," Sal says. "It's completely confidential, anonymous and they can call us without a fear of being judged and information being shared with anyone else."
Sal believes that suicide is a gender issue and that masculinity plays a role - making it difficult for men to talk about such issues.
While Sheri says male clients - when they eventually do see her - are more likely to open up than women, they are also far more worried that other people will find out.
"Men often ask for more confidentiality - in other words, they don't want to use work email and ask me not to contact them at home – and have their own reasons for being more clandestine. One is a need to be macho in front of their spouses and peers and the other is the need to protect their work space – so they are worried if anything goes on their health record."
So clearly depression is still stigmatised? Dr Raj says: "I think depression is still very stigmatised by society, but that is partly because people still don't know what is being referred to - we all feel a bit depressed from time to time, but clinical depression that doctors treat or should be seen by doctors and which I treat every day in my clinical practice, is much much worse, and feels like a severely physically incapacitating illness, often with loss of weight and appetite and extreme difficulty sleeping plus physical pain.
"Another part of the stigma is the idea that people cannot recover, which is not true - given the right treatment depression has an excellent prognosis and many of my patients who are now well now hold down very high functioning jobs and handle all the stresses of life perfectly. The problem is that the NHS neglects giving the treatment of depression the resources it needs."
An already overstretched National Health Service may not have the resources to deal with mental health - certainly if comments on these pages are anything to go by, many suffering from depression are angry at the lack of options and care available to them.
He said: "I want people who are dealing with depression to be as effectively treated as if they had diabetes."
For many with depression, it can seem impossible that things are ever going to get better.
"I was so convinced that I'd never get better. I was 100% sure of it. But after a while, one of the multiple medications I'd tried started to work. I started benefiting immensely from therapy. I committed myself to eating well, sleeping well and exercising frequently. And over time, I began to recover. Towards the end of that year and throughout 2011, I also made a number of positive lifestyle changes, and by early 2012, I'd kicked my depression for good. Ever since then, I've been feeling great.
"And I'm hardly the only person who's recovered from depression. I'm just one of thousands - 10s of thousands - probably millions."
If you've been affected by the issues in this article, please call the Samaritans on 08457 90 90 90.