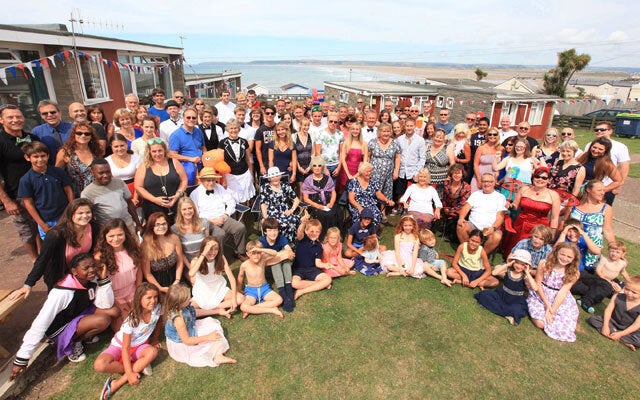 More than 100 relatives from all over the world have got together for their annual family holiday – for the 45 year running!
The Gigg clan have visited the same resort since granddad George came up with the idea in 1969.
His granddaughter Christine Greenfield, 60, said: "It started as a way for granddad to see his extended family and it just grew.
"Now it's a chance to keep in touch with everybody."
George died in 2009 aged 104, but the tradition has continued, and this week 85 direct descendants went with their families to Westward Ho!, Devon.
They included five of his children, 27 grandchildren, 50 great-grandchildren and three great-great-grandchildren, and they came from as far afield as Thailand, Mozambique, Dubai and the US.
Christine, from Tunbridge Wells, Kent, added: "We all get along with each other. There's no obligation to go at all but generally everybody enjoys it.
"The younger children love playing with each other - they see their cousins of course. It's like one long party for them."
But Christine said future the gatherings could drastically shrink. She said: "A lot of them may not make it in future because air fares are expensive.
"Especially those who live in America. They may not come again."
Speaking in 2004, George's son-in-law Peter Greenfiled explained: "My wife and her sister found the holiday camp way back in 1969, when their mother, Stella, was terminally ill and they were looking for a place where she could be visited by her relatives, and it just went on from there.
"There are quite long gaps during a year when we don't see some members of the family, and this is one occasion when we can get together and spend some quality time with each other.
"We have to book a year in advance and usually take the first week of the school summer holidays."