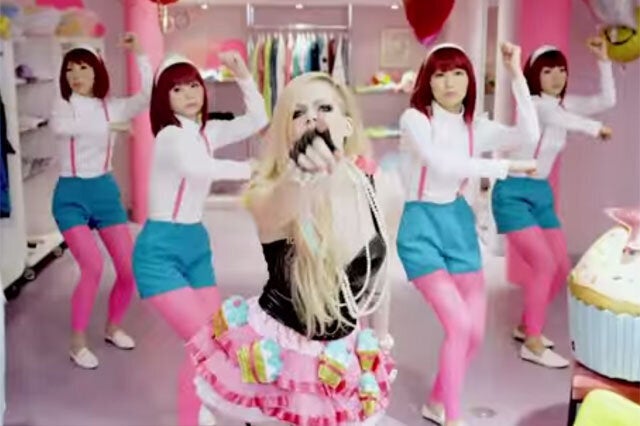 Avril Lavigne has come under fire for using a favourite children's character - Hello Kitty - as the theme of her new single, which critics have derided as hypersexualised and racist.
The song, also called Hello Kitty, features racy double entendres centred around the beloved Japanese cartoon cat.
Lyrics that leave little to the imagination include 'We can roll around in our underwear how
every silly kitty should be' and 'I've got something you need to see... Come and play with Kitty and me'. Imagine hearing your Hello Kitty-mad four-year-old singing that around the house while Granny's round!
The accompanying video, which sees Japanese backing dancers in stereotypical school-style uniforms performing robotic dance moves, was immediately lambasted by critics who accused her of using a racist depiction of Japanese culture.
Canadian rock chick Avril appears to have taken her cues from Katy Perry (random sexualisation of cupcakes) and Gwen Stefani (using Japanese women as exotic props), but the result is an ear-curdling mash-up of punk, techno, dubstep and J-pop that has been widely derided as offensive.
Critics described the tracks as 'lurid' and 'embarrassing' for its bad taste Hello Kitty double entendre and tone-deaf use of Japanese culture.
Following the uproar, the video was removed from YouTube and from the singer's website on Monday, only to be re uploaded on Wednesday, with the Sk8er Boi singer apparently determined to brazen out the controversy.
In an interview with Digital Spy, Avril denied accusations of over-sexualising a beloved children's character. "Obviously it's flirtatious and somewhat sexual, but it's genuinely about my love for Hello Kitty as well," she protested.