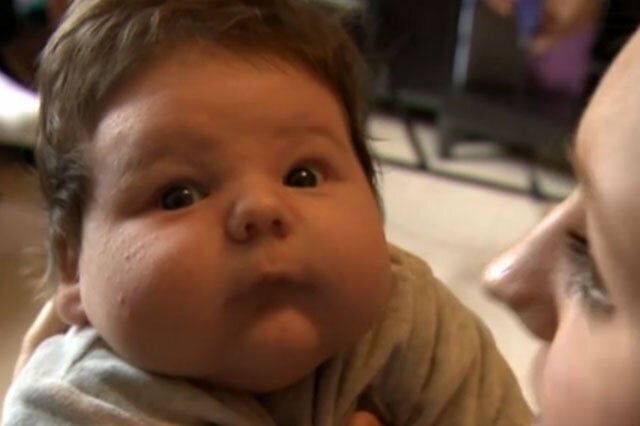 A new mum has spoken of her shock after giving birth to a baby who weighed a whopping 15lb 7oz, making him the second biggest baby ever to be born in the UK.
George Joseph King was born naturally (!) following a 16 hour labour at Gloucestershire Royal Hospital on February 11.
His parents, Jade Packer and Ryan King, both 21, had no idea that their first baby was going to be so big. In fact, even Jade's doctors were surprised, and only realised that George was larger than the average newborn while she was in labour.
"When his head was out that's when they realised he was so big," she told the BBC. "Then his shoulders got stuck and that's when everything kicked off.
"There were about 20 doctors in the room. That's when it got really scary."
George was starved of oxygen for 10 minutes and was given just a 10 per cent chance of survival after his large size caused his shoulders to get stuck during delivery.
"To be told you're going to lose your baby after waiting nine months to finally meet him was the worst," said new dad Ryan.
George arrived 15 days after his due date and was almost twice the size of an average baby. He was too large for any of the newborn clothes his parents had bought for him, and had to be put straight into clothes designed for babies aged three to six months.
After the birth, George was taken to the special baby unit at St Michael's hospital in Bristol. His mum and dad were allowed to take him home to Cheltenham four weeks later.
Doctors are unsure what caused George to become so large. It doesn't run in his family - his mum weighed just over 6lb when she was born, and his dad was only slightly larger at just over 9lbs.
George is still being closely monitored, but he has only put on a pound since he was born. Jade and Ryan have been told that his size will level out and he should now grow at a normal rate.
Jade, who had gas and air and an epidural during the birth, has been put off having any more children in case they are equally as large.
"He's a little miracle.. well a big miracle really!" she added.