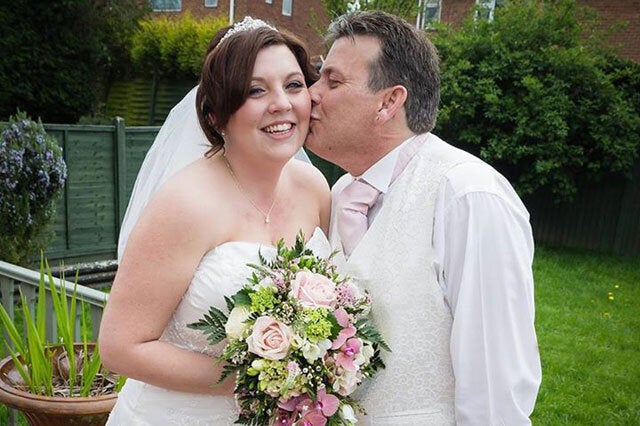 A heartbroken bride has told how her mum died shortly after she got married.
Terminally ill Lisa Moore, 45, was rushed to hospital just hours before her 22-year-old daughter Sophie's nuptials.
Her heartbroken daughter then made the agonising decision to go ahead with the ceremony as she waited for news about her mum's condition.
Tragically, Lisa passed away soon after Sophie said 'I do'.
Lisa had been suffering from a rare form of bone marrow cancer called multiple myeloma and it was her wish to see her four children get married.
Sophie told the Birmingham Mail: "The nurses said mum's last words were 'my daughter is getting married today which is really special to me'. I am glad we granted her last wish.
"She got to see me in my dress. If I hadn't have gone ahead she would have been really cross, so I went on for my mum. It was all about her."
Sophie's dad Kevin broke the news about her mother's death the morning after the wedding.
Kevin had watched his daughter get married at St Catherine's Church in Burbage, West Midlands, before rushing to hospital to be by his wife's side.
The family are raising money for the Macmillan Cancer Support.
So far family and friends have raised £500 in Lisa's memory, donating money at Lisa's funeral on May 16.
Sophie said: "We are so grateful and want to say a huge thank-you to everyone who donated."
Next week, Sophie is taking part with Colourfun Mile in Hinckley, where spectators throw paint at participants as they run the course.
And during the summer she and Kevin are planning to throw themselves out a plane for a sponsored sky dive.
Sophie said: "I can just imagine mum saying 'go for it' – she would probably want to do it herself! She was an amazing, inspirational and beautiful woman.
"We want to support Macmillan like they supported my mum and this is just the beginning.
"I'm going to keep doing this forever, I never want to stop. My mum was so inspirational and amazing, and I want to keep her name and memory alive."