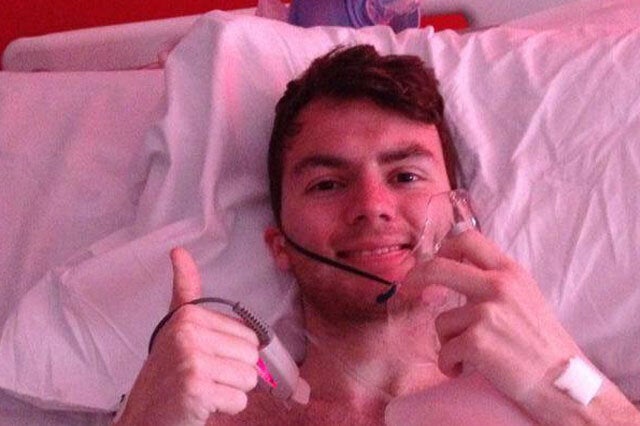 A teenager with terminal cancer has raised an incredible £2 million for charity after posting his final message to followers.
Stephen Sutton, 19, from Burntwood, Staffordshire, was diagnosed with bowel cancer aged 15 and started raising funds for the Teenage Cancer Trust.
After reaching his initial target of £10,000, he then set out to raise £1m.
Then on Tuesday,he posted on Facebook:"It's a final thumbs up from me! I think this is just one hurdle too far."
He told his thousands of friends and followers that it would be his last post and any further updates would be from family members.
He wrote: "It's a shame the end has come so suddenly. There's so many people I haven't got round to properly thank or say goodbye too. Apologies for that.
"I will continue fighting for as long as I can, and whatever happens next I want you all to know I am currently in a good place mentally and at ease with the situation."
Stephen's quest has been recognised by celebrities across Britain, including comedians Jason Manford and John Bishop who donated £10,000 each.
Jason urged people to donate so Stephen could 'sleep easy'.
Support also came from TV's Piers Morgan, football pundit Stan Collymore, comedian Alan Davies, swimming legend Sharron Davies and TV's Phillip Schofield.
Piers tweeted: "What a remarkable, inspiring, courageous young man, please help him achieve his total."
Singer Pixie Lott and footballers Jimmy Bullard and Robbie Fowler also showed their backing by posting links to Stephen's Just Giving page.
Pixie wrote: "Stephen's story, what an inspiration. There should be more people in the world like you. So lovely to meet you, Stephen."
He used a bucket list featuring things he wanted to accomplish before he died to help raise funds.
It included hugging an elephant at West Midlands Safari Park, crowd-surfing in a rubber dinghy, playing the drums in front of 90,000 people at a Wembley cup final and delivering a speech about his fight with cancer at 10 Downing Street.
He also appeared in BBC daytime drama Doctors and had a pair of scissors tattooed on surgical scars that run along his body.