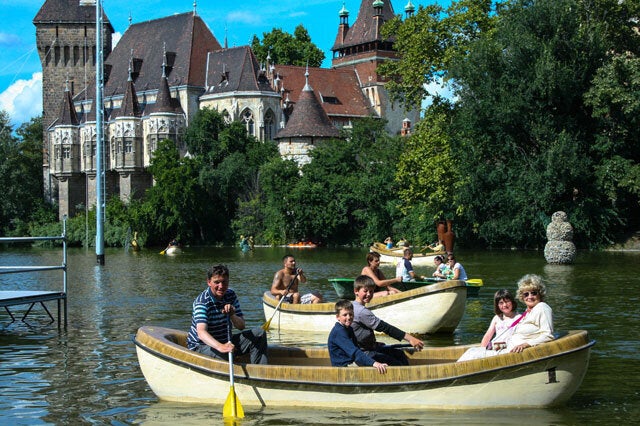 Fancy a family break with a fairytale skyline, affordable activities and an historic square where anything can happen? Then head to Budapest.
On Heroes' Square around 100 people are gathering to dance. It may be an advert, it may be a flash mob. But whatever it is, the TV cameras are there to record this moment on a monument. The Budapest beer bike flashes past with two lines of drinkers waving in unison. Tour guides hold umbrellas high, unknowingly inviting the rain. The seven tribal leaders of Hungarian history silently watch from their Millennium Memorial. Meanwhile we sit on the steps of the Hall of Art, ice cold lemonades giving our cultural activities a citrus twist. And we take in all the colour of this Eastern European square.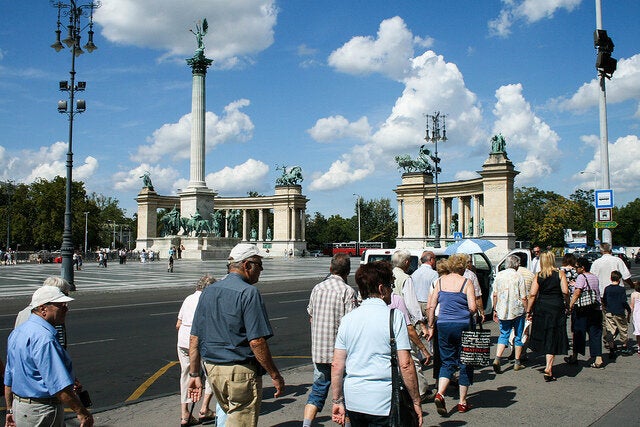 The colour of the night sky
At night the rainbow skyline turns to black then gold. We watch it from the riverside. The romantically lit parliament, castle, river and bridges make this skyline unique. But while tourists make a beeline for the river, locals eat out and party at Kazinczy Street in the capital's hippest quarter. We follow them there for a late night snack.
As a family of five we can't afford to eat out all the time and unfortunately a ticket to the famous Hungarian State Opera House is also out of our reach. But the city is full of affordable treats. We discover the simple pleasure of taking the Metro; the second oldest underground in the world (if you're wondering, the first was London) and a UNESCO World Heritage Site. It's the cleanest, quietest underground system I've ridden, with stations like Opera more like works of art than passenger loading bays.
We catch some traditional dancing at a show in Castle District, then join the tourist throng looking out over The Danube and Pest from Fisherman's Bastion. We laugh as violin wielding buskers play folk tunes to diners in open air restaurants until they are paid to go away. We have an atmospheric beer in the bar of the Hilton Hotel, sitting amongst the excavated ruins of a medieval monastery.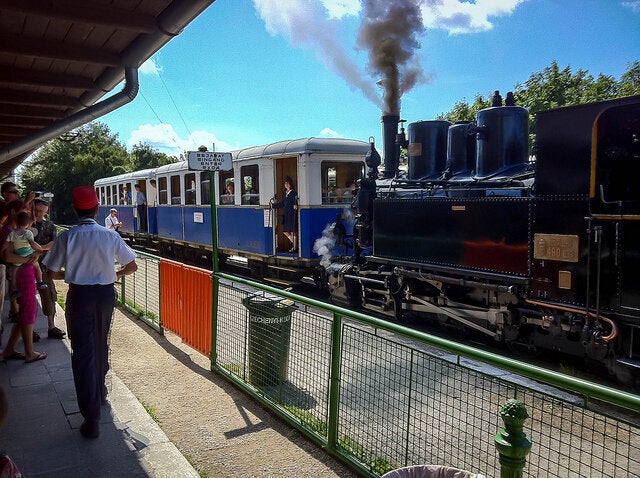 Parents with children approaching adulthood might head for the elegant Gellert or Schzechenyi Baths for a day of pampered luxury. But our children don't do pools without water slides, so we choose the next best thrill; a novel ride on the Children's Railway. Trains taking families around cities are nothing new, but this one is a little way out of town and run by children aged 10-14. A uniformed mini guard takes our ticket while another drives the train. And on a hot day it's bliss to head off by steam into the shady Budapest hills.
Later, we head back down to Heroes' Square and the nearby boating lake. We take a rowing boat out and adopt a local old lady as a granny. In a few weeks time the lake will close, freeze and reopen as a skating rink. There's much to do in this part of Budapest, including zoo, fairground, museums, and Andrassy Avenue; one of the smartest streets in the city.
We end our break as we began it, in Heroes' square. The children play grandmother's footsteps near the tall statues while I stand in the centre. The traffic has calmed, the beer bike parked up and the tourists retreated. This wide open space with its imposing stone sentries has outlasted war and peace, boom and bust, tourist surge and climate change, yet the seven Heroes are unmoved, untouched, untroubled. (Although who knows what impact the flash mobs have had on their psyche!) As a cool breeze blows I wrap the glowing light around me like a shawl and savour the moment.