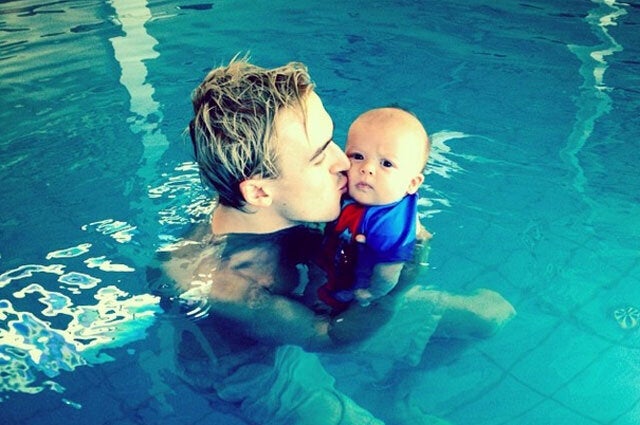 We all know that Tom is a devoted dad from the family photos, videos and anecdotes he shares with his fans. He loves to voice his excitement about being a dad with the world - and now he's got the trophy to prove it!
Their new baby immediately became a frequent fixture of Tom's active presence on social media. The McBusted frontman has amassed an impressive following on Twitter due to his funny and intimate insights into family life, as well as his keenness to engage with fans over the platform.
His account has rapidly become a place for the young dad to share his thoughts on fatherhood, from the touching to the silly. "It's amazing how quickly terms like "night-feed", "winding" and "poopy bum" have become common phrases in our vocabulary," mused one tweet.
Tom's fans have been treated to so many cute insights into Fletcher family life, that when baby Buzz was rushed to hospital at just nine days old, Twitter was overwhelmed with messages of support and hope for the family. Buzz was discharged five days later, and has appeared happy and well since then.
The 28-year-old has also conquered YouTube with his creative way of expressing his excitement about impending fatherhood.
In the run-up to Buzz's birth, Tom filmed himself singing to Giovanna and her bump for a lovely timelapse video 'From Bump to Buzz', which has been viewed over nine million times.
The ex-McFly star has yet to comment on his victory, but we're sure he'll be quick to post his reaction online. Others in the running for the title included Ben Fogle, Mo Farah - last year's winner - and John Bishop.