It sounds like an absurd rant on Facebook or a tinpot blog with a minuscule following, but the conspiracy theory that either Mossad or the CIA are funding and advising ISIS in order to "smear" Muslims is an idea gaining traction across the Middle East.
The swirling and obviously false rumours, which are particularly widespread in Lebanon, have even forced the US government to publicly deny any links to Isis, now rebranded as Islamic State (IS).
Social media users across the Arab world have shared screenshots entitled "Password 360", which they allege is an admission by former Secretary of State Hillary Clinton's book, which "admits" the US has been engineering IS. The screenshot does not bear any reality to what is in the book, which is not even called "Password 360", nor is there any mention of such a thing in the book, which is called "Hard Choices".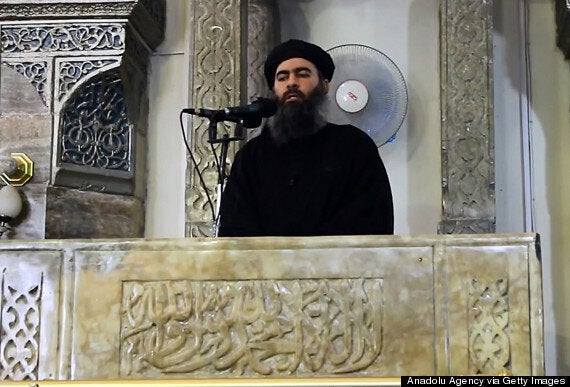 Conspiracy theory: Islamic State leader Abu Bakr al-Baghdadi preaching during Friday prayer at a mosque in Mosul
The Lebanese foreign ministry last week summoned US Ambassador to Lebanon David Hale to answer questions about the rumours, forcing the US Embassy in Beirut to post a firm denial on its Facebook page: "Any suggestion that the United States ever considered recognising the Islamic State of Iraq and the Levant as anything other than a terrorist organisation, or had any role in its creation, is patently false. Allegations circulating in Lebanon to the contrary are a fabrication."

The hashtag #HilaryClintonsMemoirs (#مذكرات_هيلاري_كلينتون) become a trending topic in several Middle Eastern countries, with satirical tweets mocking the theory with outlandish claims about what else the Secretary of State might have written - like a secret CIA plot to close all the restaurants in Cairo and replace them with McDonalds.
The state-run Islamic Republic News Agency reported that it was a plan called Operation Hornet's Nest, quoting NSA whistleblower Edward Snowden, though there is no indication whatsoever that Snowden ever spoke to IRNA, or alleged anything of the kind.
The conspiracy theory that it is Israel who are behind IS has even been aired in more reputable quarters. An employee of the Dutch Justice Ministry Yasmina Haifi, was quoted in De Telegraaf as saying: "[Islamic State] has nothing to do with Islam. It's part of a plan by Zionists, who are deliberately trying to blacken Islam's name."
Haifi's LinkedIn profile describes her as a project leader at the National Cyber Security Centre and an activist for the Labour party.
She later deleted the message, posted on her Twitter, and replaced it with a tweet that said: "I realise the political sensitivity in connection with my work. That was not my intention."
"Is it your contention that Mossad and the CIA are training ISIS," Burden asked. "This was planned for over a decade," the caller responded. "Mossad and CIA were in there and probably still are. If there's any Muslims out there thinking of fighting for Islamic State, then be aware, this is a Zionist plot, this is a proxy war."
"Ok, I'm not sure there is any evidence for that," Burden replied.
It is not quite the most outlandish thing that has ever been claimed about IS however. That particular hive of conspiracy theory Veterans Today ran a bizarre story in early August that the "caliph" of Islamic State Abu Bakr al-Baghdadi is in fact a Jewish actor and Mossad agent called Simon Elliot. The American site quoted two Arab sources, Radio ajyal.com and Egy-press.com.
"The plan: get into the military and civilian heart of the countries that are declared as a threat to Israel in order to destroy to facilitate thereafter, the takeover by the Zionist state on the entire area of the Middle East in order to establish Greater Israel," the website claimed.
Related