Rainie's been causing plenty of trouble since her arrival back in 'EastEnders' and in tonight's episode (15 August), she finally faces some problems of her own - in the form of Phil Mitchell.
When Phil learns that Rainie has been blackmailing Ian Beale, Phil decides to help his frenemy out and track Rainie down himself.
Phil hunts Rainie down
It doesn't take long for Phil to find Rainie and as he bundles her into a car, she's left wondering how awful Phil's revenge will be.
Since returning to the show, Rainie's also caused problems for Mick Carter, who was arrested for kerb-crawling after his attempt to help Ian.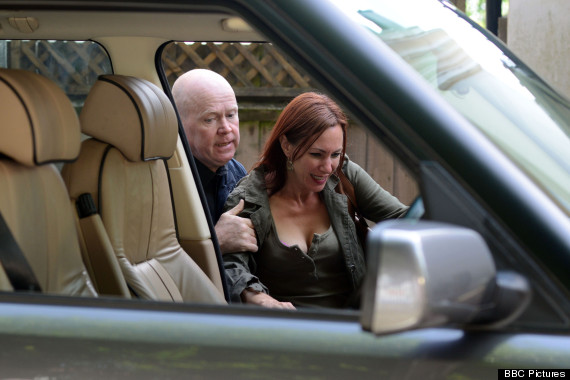 Phil bundles Rainie into a car
Tanya's not the only villain to make their return to the soap in recent weeks, as a certain Mr Cotton is also making his whereabouts known.
So far, Ian's managed to keep his sordid secret from Denise, however his fiancé could be about to find out, if Patrick has his way.
Watch 'EastEnders' tonight (Friday 14 August) to see the events unfold.
LIKE US ON FACEBOOK | FOLLOW US ON TWITTER