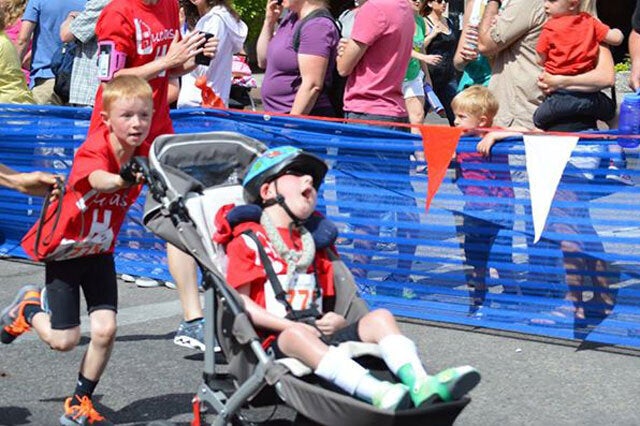 He ain't heavy, he's my brother...if ever a song applied to a child, it's eight-year-old Noah Aldrich.
For his bond with his severely disabled sibling is like no other, epitomised by this wonderful story about how he competed in a local youth triathlon – and took his little brother with him.
Lucas, six, was born with lissencephaly – a rare brain disorder that means he will never walk, talk, or eat on his own.
But big bro Noah refuses to leave him behind and so, the pair, from Idaho, U.S., trained for three months for the event.
And then, on July 12, the brothers took part in a 200-metre swim, three-mile bike ride and one mile run...with Noah carrying little Lucas in the sweltering heat the entire time.
For the swim, Noah pulled Lucas along in a raft before his little brother was transferred into a bike trailer for the cycle and a buggy for the run.
Their mum Alissa Aldrich told the New York Daily News: "It was a little nerve wracking but exciting and exhilarating at the same time.
"And we're definitely proud. As a parent it was a pretty incredible thing to watch."
Despite Lucas' condition, the family still like to remain active and they've all been on a flight together, been adaptive skiing and on a trip to Disney World.
The two brothers are especially close and their mum says Lucas 'lights up' when he sees his big brother and starts moving his arms and legs excitedly.
They love to hang out together, watching cartoons and going on walks and bike rides as Noah pushes him in his buggy.
But the triathlon is the biggest thing they've done together.
Alissa said: "I think [Lucas] definitely knew he was part of something pretty special.
"When we got him out of the water, he had the biggest grin that you would have ever seen (and) I know he enjoyed the bike and the run.
"Our goal with the whole thing was just to have fun. You can live life without limits."
The family has set up Lucas's House, a place where children in Idaho and the surrounding area can receive respite and end of life care.