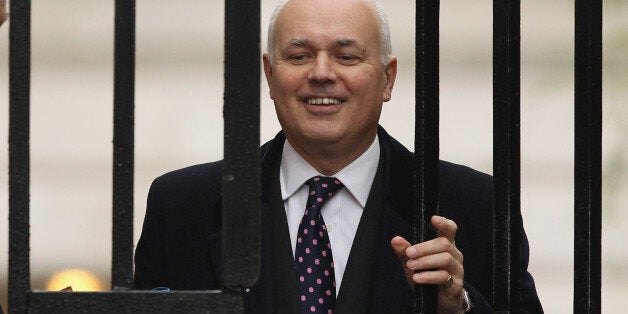 Iain Duncan Smith has accepted that he has become a "hate figure' to some people due to his controversial changes to the benefits system.
The work and pensions secretary made this admission in an interview on Wednesday with LBC radio, when the presenter, Julia Hartley-Brewer, reminded him of the vitriol he has received.
"You've been called extraordinary things, a monster, even a murderer, blamed for the suicide of welfare claimants," she said, suggesting he had become a "hate figure in some circles". She finished by asking him: "How does that make you feel?"
Duncan Smith shrugged off the criticism, but conceded: "I recognise passions run high". He added: "I believe that I have to do these things and I have to change the welfare system."
"If the welfare system was so fantastic and successful before, why when I came into office did we have something in the order of five million people sitting on out work benefits?"
The Tory cabinet minister also casted doubt on figures showing that two-thirds of people hit by the "bedroom tax" are disabled as he said the findings are based on tenants' "self-declaration".
The figure, which comes from a Department for Work and Pensions equality impact assessment, has been cited by campaigners and critics as proof that the policy is hitting disabled people the hardest.
Tenants deemed to have spare rooms have seen their housing benefit cut by an average £14 a week, but Duncan Smith insisted that there was no "ongoing check" on the figures.
"The figures you use are figures used for people's self-declaration of their disability," he said.
"The fact is all social housing has exactly the same figures. This isn't just people with spare rooms. The whole of the social housing network, two-thirds of them declare as having some form of disability."
"I'm not saying they're right or they're wrong. I simply say that's their declaration. There's no ongoing check. About a third are in receipt of something like DLA, which of itself is a payment to support housing costs."