US military will not evacuate thousands of besieged Iraqi Yazidis from a northern mountain range, saying the situation was far less bad there than anticipated.
US special forces and aid workers have landed on Mount Sinjar to assess whether a major military evacuation of the Yazidis, threatened with death by Isis jihadists, is necessary to save lives.
But the Pentagon said that fewer people were on the mountain than expecting, and the siege appears to be easing. ""There are far fewer Yazidis on Mount Sinjar than previously feared. An evacuation mission is far less likely," said defence spokesman Rear Admiral John Kirby, praising "humanitarian air drops, air strikes on [Isis] targets, the efforts of the Peshmerga and the ability of thousands of Yazidis to evacuate from the mountain each night."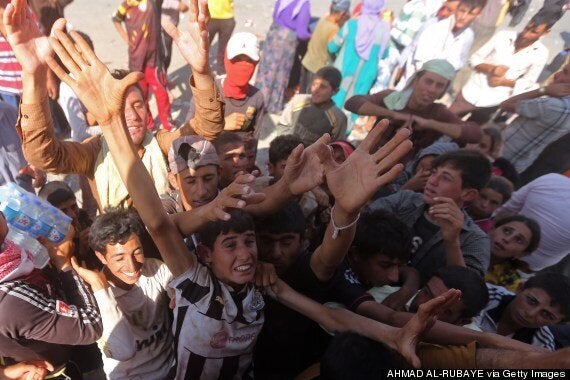 Displaced Iraqi Yazidis, who fled a jihadist onslaught on Sinjar, gather to collect bottles of water at the Bajid Kandala camp
"The Yazidis who remain are in better condition than previously believed and continue to have access to the food and water that we have dropped," the statement continued.
"The president's decisive decisions in the immediate wake of the crisis kept people alive and broke the siege of the mountain," the White House said in an additional statement.
It has also been reported the SAS is on the ground in Iraq, with the Daily Telegraph reporting Baroness Nicholson of Winterbourne, the trade envoy to Iraq, said British special forces had been working with US troops for "six weeks or more".
A Ministry of Defence spokesman said: "We do not comment on UK special forces."
Story continues below slideshow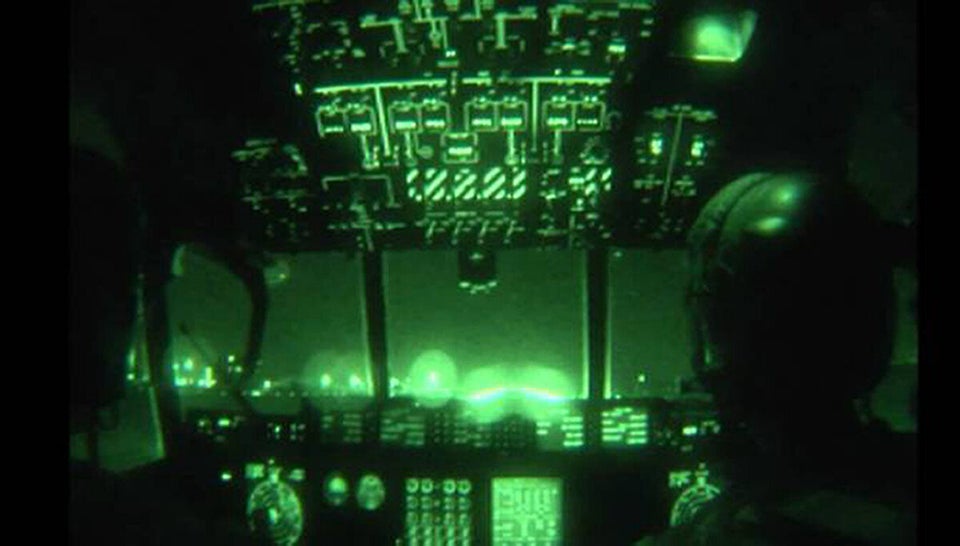 UK Aid Drop For Iraq
Conservative Sir Richard Ottaway, chairman of the Foreign Affairs Select Committee, told BBC's Newsnight: "I think the Kurds have made it absolutely clear that the key priority at the moment is security advice, it's logistics, it's humanitarian aid, it's arms and in particular ammunition and that is where the British focus is."
Told the SAS had gone into Iraq, Sir Richard replied: "As you say, there is a British involvement if the SAS is in there.
"But right now Britain... (has) got armed Tornado aircraft providing back-up to the humanitarian aid and I think that they are very closely involved at the moment and as we sit here I'm quite sure the Ministry of Defence is making assessments as to whether air strikes should be appropriate."
Both Britain and the US are thought to have sought to avoid an complex evacuation of refugees from Mt Sinjar, with experts warning such an action carried "intrinsic risk". Two principle ways of carrying out the task would be to create a corridor to a safe place or resort to airlifts.
The PM returned from a family holiday to chair a meeting of the Government's Cobra emergency committee after which he insisted the UK involvement remained a humanitarian mission. Cameron is continuing to face calls to directly arm Kurdish forces or join the US in air strikes against Isis extremist fighters.
Professor Michael Clarke, director general of the Royal United Services Institute (RUSI), said: "Neither of them are terribly attractive. They can both be done but both of them carry intrinsic risks."
The corridor option is "more intensive on the ground" as forces would have to be prepared to fight to maintain safety while people are brought out.
"It is possible that if it were done - and if it were done by a heavy, well armed, modern force - that the corridor itself would act as a deterrent and the rebels might say 'well, if you evacuate them we're not going to try'."
Clarke explained that an airlift would probably have to involve helicopters due to the lack of suitable landing space for planes. The vulnerability of helicopters made this "more fraught" than a corridor, he said, adding that it would take a lot longer as Chinook helicopters could only rescue around 30 people at a time.
A "fully fledged air campaign" would have to be mounted to stop the rebels from shooting the helicopters down, Clarke noted.
RUSI's senior research fellow Shashank Joshi said the operation would be simpler if US and UK armed forces were on the ground in Iraq. "It's easier to neutralise threats, secure landing areas, secure perimeters if you have troops on the ground. But it's more than clear that that is a political impossibility. What you may have are special forces and they can perform certain key functions," he said.
Popular in the Community