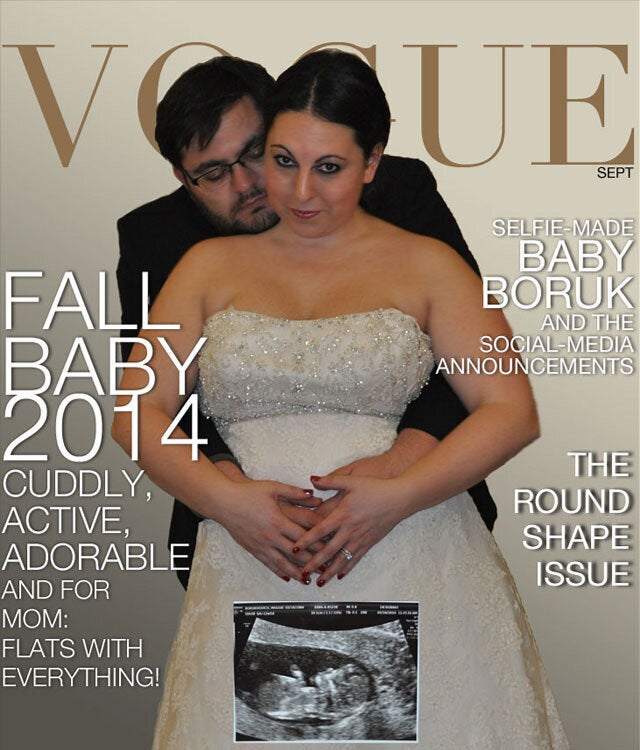 Gennady and Maggie Borukhovich wanted to find an original way to announce their pregnancy to friends.
So rather than sending out cards with a photo of their first scan, they decided to incorporate the picture into their very own fashion magazine cover, which they shared on Facebook.
Maggie slipped into her wedding dress and the couple recreated Kim and Kanye's romantic pose, with Gennady's hands placed lovingly on his wife's pregnant stomach.
They then superimposed their scan picture over Maggie's stomach and altered the magazine's cover lines to reveal their news.
They replaced Vogue's #WorldsMostTalkedAboutCouple with #WorldsMostHashtaggedBaby, and hinted at the due date with the line: "Fall baby 2014: Cuddly, Active, Adorable"
Gennady told abc news that he and his wife of two years had already shared the happy news with close family, but they were struggling to come up with an original way to announce the pregnancy to friends.
But inspiration struck when he saw the Kim and Kanye cover and the spoofs it had spawned from comedy actors James Franco and Seth Rogan, and Miss Piggy and Kermit.
"The Vogue cover and the parodies were in the news," said tech entrepeneur Gennady. "I thought, we have to do this.
"We just cracked up when we saw it. We could barely sleep that night we were laughing so hard."
The couple, who live in New York, have decided not to find out their baby's gender until it is born and have yet to pick out a name, but Gennady has said that Kim, Kanye and North are 'absolutely not' in the running.