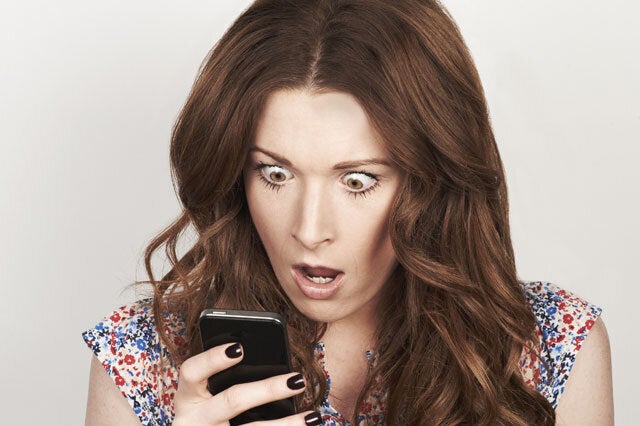 A mum was shocked when she received a spiteful text message labelling her 'pathetic' - and even more shocked when she realised it was from mobile phone company Orange.
Emma Townsend, 23, says that she was sent the nasty message after a heated exchange with the phone giant's customer services department over an unpaid bill.
Supermarket worker Emma, who is mum to Harley, 20 months, told the Stroud News and Journal that she contacted the company to discuss an unexpected bill of £110 for the phone contract she shares with her partner Carwyn, 24.
It emerged that their direct debit payment for the previous month had not gone through, meaning they were now facing a combined bill for two months' use of their phones.
Carwyn, a car salesman, explained that the conversation turned sour as he protested that the couple should have been informed that their payment had not been received, rather than allowing the debt to rack up.
"They told me that Emma should have rung up and paid the bill over the phone," he told the newspaper. "But we had set up a direct debit with them so we assumed that the bill would be taken straight out of the account."
The customer service advisor, Carwyn says, began to 'talk over' him, so he ended the call, telling her he would call again and take the matter to a supervisor.
i
​Asked by an automated message to rate the customer service they had experienced, the frustrated couple gave the lowest rating.
i
But for someone at the other end of the line, the incident was clearly not over. The next day, Emma received a text from Orange on her mobile phone which read: 'You are so pathetic you can't pay your bill and you blame it on other people. You are sooo PATHETIC'.
Appalled, the couple rang Orange to complain about the insulting message. Carwyn says the employee he spoke to apologised informally for the colleague's action, but the company themselves have yet to respond.
"Emma was horrified when she received the text and the fact that they have not bothered to ring and apologise properly is shocking," said Carwyn.
A spokesman for the telecommunications giant responded to the allegations today, saying: "We apologise to Ms Townsend for the text she has received."
The statement claims that Orange is investigating the origin of the malicious message as 'a matter of urgency.