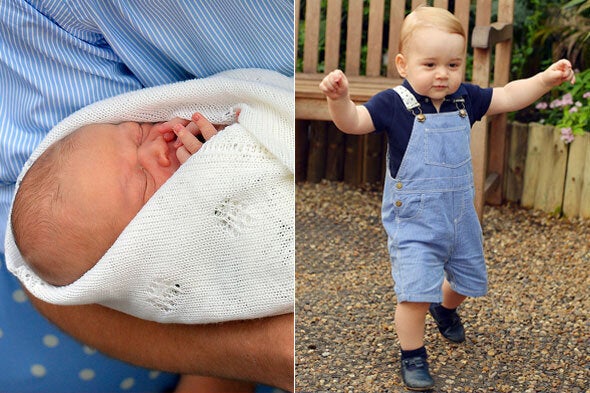 Phew! We hope he's managed to find plenty of time to nap despite his busy schedule!
Seven months later, at 4.24pm on July 22, George was born in the Lindo Wing of St Mary's Hospital in Paddington. Prince William was by Kate's side as they welcomed their 8lbs 6oz son into the world.
George left hospital the next morning with Kate and Wills - who admitted that their first night as a family had not been a quiet one:
"He's got a good pair of lungs on him," William joked.
"At the moment, the only legacy I want to pass on to him [George] is to sleep more and maybe not to have to change his nappy quite so many times," the new dad said.
Story continues below the video
George has grown a lot since then and his boisterous nature has continued to develop as he's progressed in leaps and bounds - William says he is now "charging around and opening doors."
It's believed that George enjoyed an early Peter Rabbit-themed birthday party on Saturday July 19, at the Berkshire home of his grandparents, Michael and Carole Middleton.
But George's main party will be kicking off on July 22, at his Kensington Palace home. Kate and William are thought to be keeping the affair 'low key,' - well, as low key as a party can be when your great-grandmother's the Queen of England!
HRH Queen Elizabeth II is expected to attend, along with Prince Harry, the Middletons, and some of George's godparents. Unfortunately George's paternal grandfather Prince Charles and the Duchess of Cornwall won't be able to make it, as they are currently on a trip to Scotland.
Whatever his second year has in store for George, one thing's for sure - if the latest pics of the Prince are anything to go by, he'll certainly be continuing to give his parents the run around.
Click through the gallery below to see highlights from HRH Prince George of Cambridge's first year