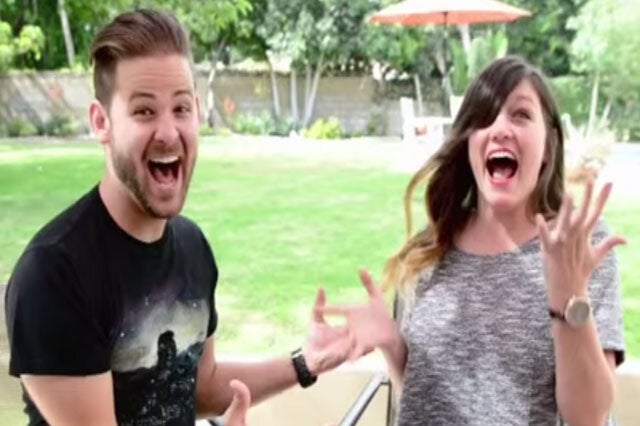 As pregnancy announcements go, this one really is the Real Thing.
Patrick and Whitney McGillicuddy have become internet stars after they put together a pregnancy announcement video based around the #ShareaCoke campaign by Coca-Cola.
The couple, from America, used the brand's marketing campaign to reveal their happy news to friends and family.
In the clip, they take turns drinking from different cans, putting on famous voices to match the names – including Steve (Carell), Morgan (Freeman) and Arnold (Schwarzenegger).
On they go, drinking and chatting, until their voices return to normal. They then reveal their last sips were taken from cans printed with 'Mom' and 'Dad'.
It remains to be seen whether this announcement is actually for real, or just a sneaky Coke ad, but Patrick is adamant it was all his idea.
Story continues below the video.
Speaking to The Huffington Post, the proud dad-to-be said: "After our first ultrasound I grabbed a Diet Coke on my way to work. Looking at it, I saw that the can read, 'Dad.'
"Not knowing how popular that can was at the time, I thought, 'What are the chances!'
"I took a photo and sent it to my wife ... and the rest is history!"
Unfortunately, Coca-Cola has yet to send the couple any freebies – although surely the best Coke ad for years deserves a few free cans?
Congratulations Patrick and Whitney!