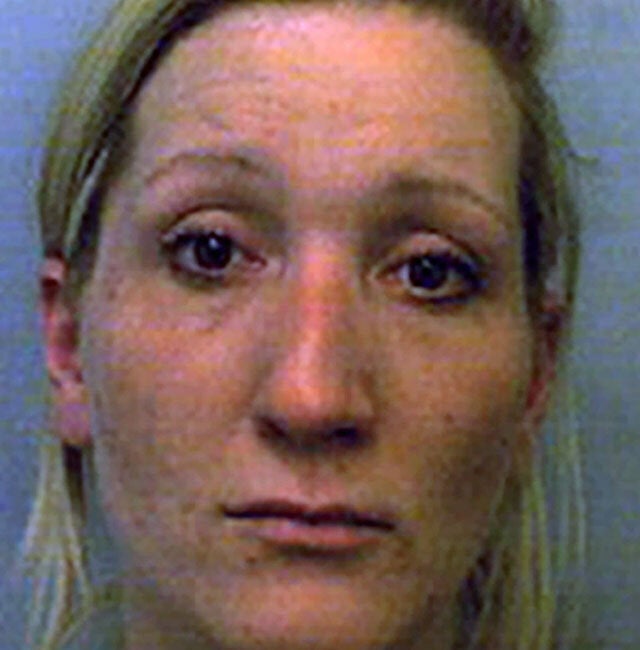 A surrogate mother has been branded a 'She Devil' after she was jailed for a fake pregnancies scam that took £15,000 from desperate couples.
But Pollard then began 'milking' the couples for thousands of pounds, claiming she needed money after suffering a car crash, was behind on her rent and had been forced to move house.
Within days of the couples demanding proof that Pollard was pregnant, the mother-of-two pretended she had suffered a miscarriage, leaving them 'heartbroken'.
The scale of her deception was uncovered when a pregnancy confirmation letter she sent one of her victims was found to be a forgery.
Pollard gained notoriety in 2010 after agreeing to carry a child for Omar bin Laden - the son of Osama bin Laden - and his wife, but she miscarried that pregnancy.
She admitted three charges of fraud by false representation relating to the faked pregnancies in March 2012, May 2012 and November 2012.
Judge Graham Cottle jailed Pollard for three years and four months for her 'brutal and heartless' actions.
He said the desperation of one couple - Josephine and Keith Barnett - and Pollard's own 'skills as fraudster' meant she was able to quickly earn their trust, before carrying out 'one breathtaking deception after another'.
He said: "It was no more than a tissue of lies that you told as you continued to take sums of money from them.
"For you, that was all that this was about. After they had parted with over £10,000 in your deception, they contacted the police.
"By that time, you had found further victims, desperate for a child to be a brother or sister for their son.
"They too were completely taken into your web of deception, parting with money, being fobbed off with one lie after another until they ended up heartbroken and deprived of over £5,000."
The couple the judge was referring to - Tony and Debbie Kaba - told how they met Pollard through the Surrogacy Finder website after they registered following a doctor's advice that they could not have another child.
They revealed how Pollard claimed to be pregnant after just one session of artificial insemination and even sent fake pictures and letters to back up her claim.
Debbie, 46, told The Sun: "I was so overjoyed. It was unbelievable, especially at the first attempt."
However, their joy soon turned to horror as they were forced to call in police after Pollard disappeared having been given £5,000 by the couple.
Debbie said: "We were infuriated with ourselves for not seeing the evil within her.
"But we just wanted to believe her. We thought she was carrying our child and she knew how desperate we were. She destroyed that dream in the cruellest possible way."
When police caught up with Pollard, she claimed to have had a miscarriage.
Debbie said: "We're sickened that somebody could be so evil. How could she put another woman through that?
"She was playing us in the most cold and calculated way. We're emotionally scarred for life. She's a She-Devil."