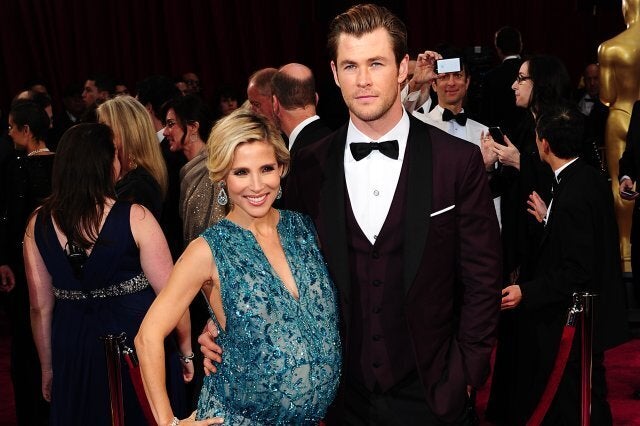 Chris Hemsworth, star of The Avengers and the Thor franchise, has confirmed his wife, Elsa Pataky, has given birth to twin boys. The couple have called the babies Tristan and Sasha.
Elsa revealed the names in a post to social media site Instagram, accompanied with a photo of the little lads' feet. "They are home already," read the Spanish caption. "Tristan and Sasha came into the world on March 18 just after the full moon. Total happiness!"
The Spanish actress, 37, was admitted to the Cedars-Sinai Medical Center in Los Angeles, where maternity suite was reported to be under close watch to prevent any media intrusion.
Staff at the hospital are well used to such precautions, as their deluxe maternity suites are a favourite with Hollywood celebrity mums-to-be such as Kim Kardashian, Julia Roberts and Kate Hudson.
Elsa recently ended up on the receiving end of one of Joan Rivers' near-the-knuckle jibes. The acid-tongued comedienne quipped "I know why she's huge. I saw her sonogram," before displaying a picture of host Ellen DeGeneres' massive group selfie with stars in the audience.
Kelly Osbourne couldn't wait to get in on the act either, saying that Pataky's beaded aqua dress was 'not appropriate' for a pregnant woman and comparing her choice of dress unfavourably with that of actress Olivia Wilde, who also attended the ceremony with a prominent baby bump.
Australian heartthrob Hemsworth met Elsa through their mutual representatives in 2010 and they were married in December of that year. They have a 22-month-old daughter, India Rose. Hemsworth has previously spoken of his love of fatherhood.
"I love it. It's the greatest thing I've ever been a part of," he enthused to Parade magazine. "When I am at work, she's what I'm thinking about, and when I'm not at work, she's who I'm hanging out with."
His natural affinity for parenthood has had some welcome side effects, too. Elsa told Spanish publication Hola! that seeing Chris become a 'great father' made him even more attractive.
"That's what makes a woman really love a man," the Fast and Furious 6 actress revealed.