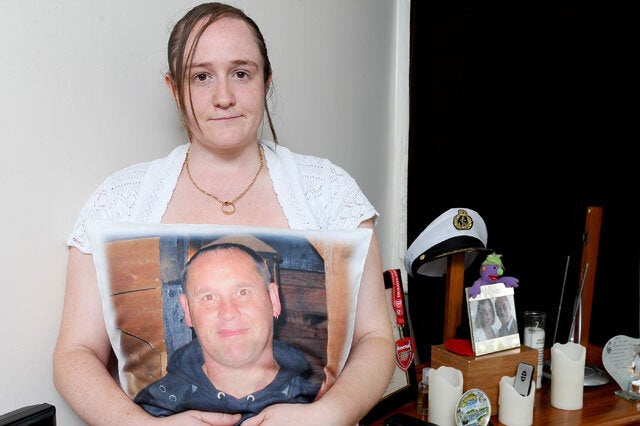 A heartbroken widow has been refused the chance to have her dead husband's baby - because NHS bosses said it would make her a single parent.
Donna Turner, 32, has been refused IVF treatment using sperm taken from her husband of only eight months, before he died.
It was her late husband Paul's dying wish to give his wife children and surgeons even reversed his vasectomy as he lay dying from bowel cancer so that the sperm could be harvested and frozen.
But Donna, from Milton Keynes, said the NHS had turned her down for IVF treatment because, as a widow, she is now officially single.
Donna said: "I wanted his child more than anything. Now my goal is to have this baby which I promised him on his death bed.
"For the names it was going to be Paignton-Louise for a girl and Tommy for a boy.
"Then the Clinical Commissioning Group refused to fund me. They said I couldn't have the IVF because they class me as single and because he has got a son from a previous relationship years ago."
She insisted: "I'm not single, I'm widowed."
Paul was diagnosed with bowel cancer five months after he and Donna tied the knot in April 2012.
He fought the disease for eight months before he died at the age of 39 in January last year.
Donna is desperate to have her late husband's child, but had been denied the £3,500 funds necessary.
She said:: "All I was asking them for was one little bit of help.
"I feel really angry because they're letting women have boob jobs and tummy tucks on the NHS but won't help someone like me.
"I didn't ask to be a widow. I would either be pregnant or have the baby by now if Paul had been here. I look at pregnant people now and I think 'why is that not me?' It should have been me pushing a pram now or with a bump."
She added: "As he was slipping away I held his hand and told him I loved him and I promised him I would have the child and take them to Devon like we planned.
"On the last breath I saw a little tear roll down his face and then he was gone."
The Milton Keynes Clinical Commissioning Group's associate director, Janet Corbett, said its IVF policy was in line with other CCGs in the East Midlands.
She added: "The policy is for use when a couple have a medical reason for being unable to conceive a child."