The most popular names given to babies in England and Wales have been revealed, and some unusual names have made an appearance in the charts for the first time.
Four baby girls were named Daenerys and three boys were named Tyrion in 2013. Another 11 were named Theon. The new names are apparently in homage to characters in the HBO TV series Game of Thrones, set in the fantasy land of Westeros. Daenerys in Game Of Thrones: four babies now share her name
The Netflix series Breaking Bad also seems to have influenced parents deciding what to name their offspring. The number of babies called Walter and Skyler (after the main character Walter and his wife in Breaking Bad) rose sharply after the show first aired in the US in 2008.
Draco, Sirius and Bellatrix - names from the Harry Potter series - have all appeared on baby names lists in the past, and the wizard world clearly still attracts parents as three girls were named Bellatrix last year.
Bella and Edward's vampiric baby Renesmee, from the Twilight books and films, has more than tripled in popularity in the last three years. An impressive 18 baby girls were called Renesmee in 2013, compared to five in 2011. Renesmee fuses the names of two characters, Esme and Renee, from the fantasy stories.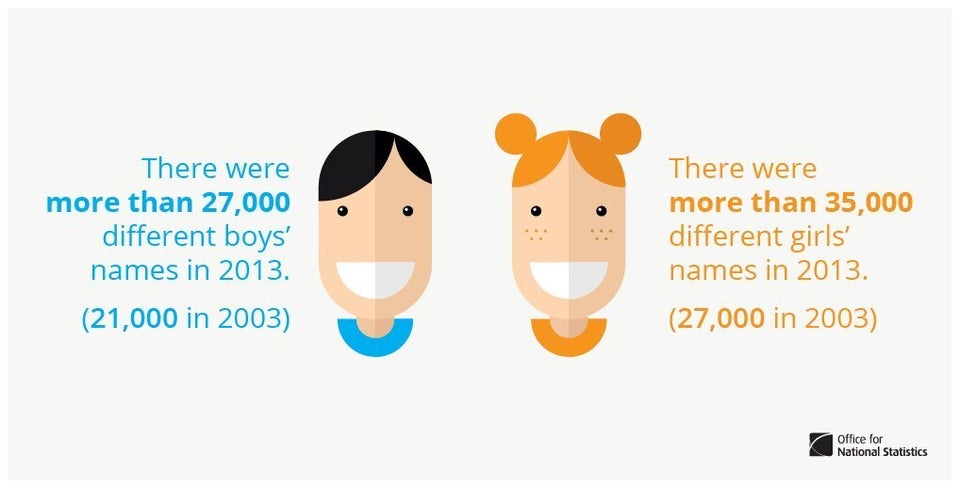 Infographics: baby name trends 2013
Over 27,000 different boys' names and over 35,000 different girls' names were registered in England and Wales last year.
Amelia took the top spot for baby girls and Oliver the country's favourite name for boys.
Amelia has been in the top spot since 2011 while Oliver replaced Harry, the top name in 2011 and 2012.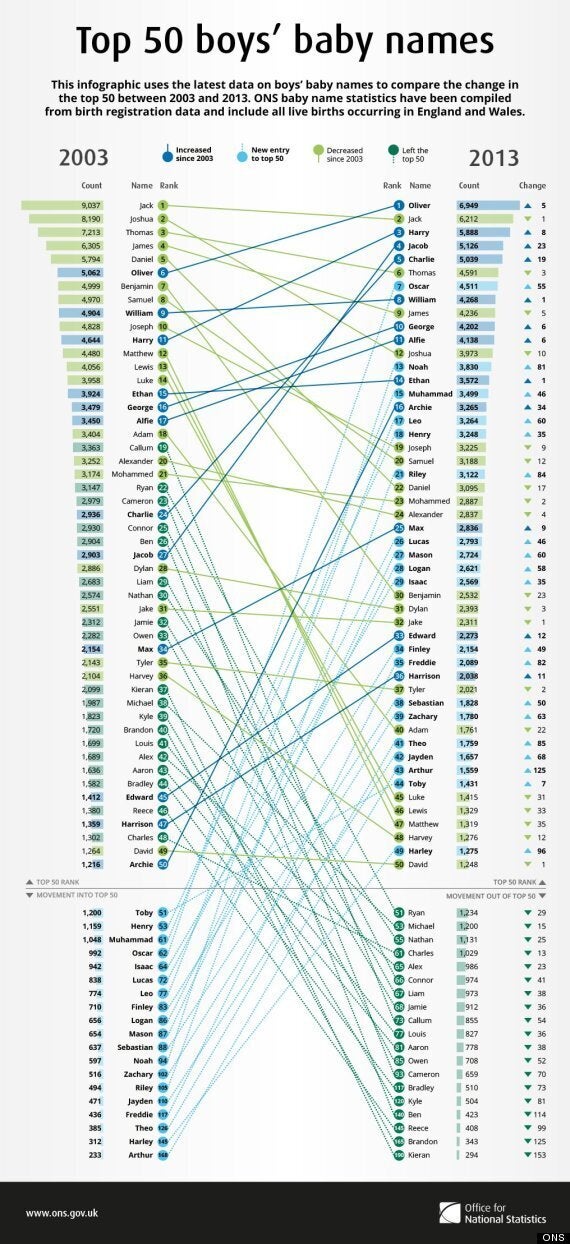 Oscar rose ten places, to be the seventh most popular boys name. For baby girls, Poppy was the biggest climber and rose six places to sit as the seventh most popular girls name.
New entries in the top 100 boys names included Teddy at number 86, Ibrahim at number 89 and Felix at number 91. Girls names that made it back into the top 100 where Victoria, Darcy and Beatrice.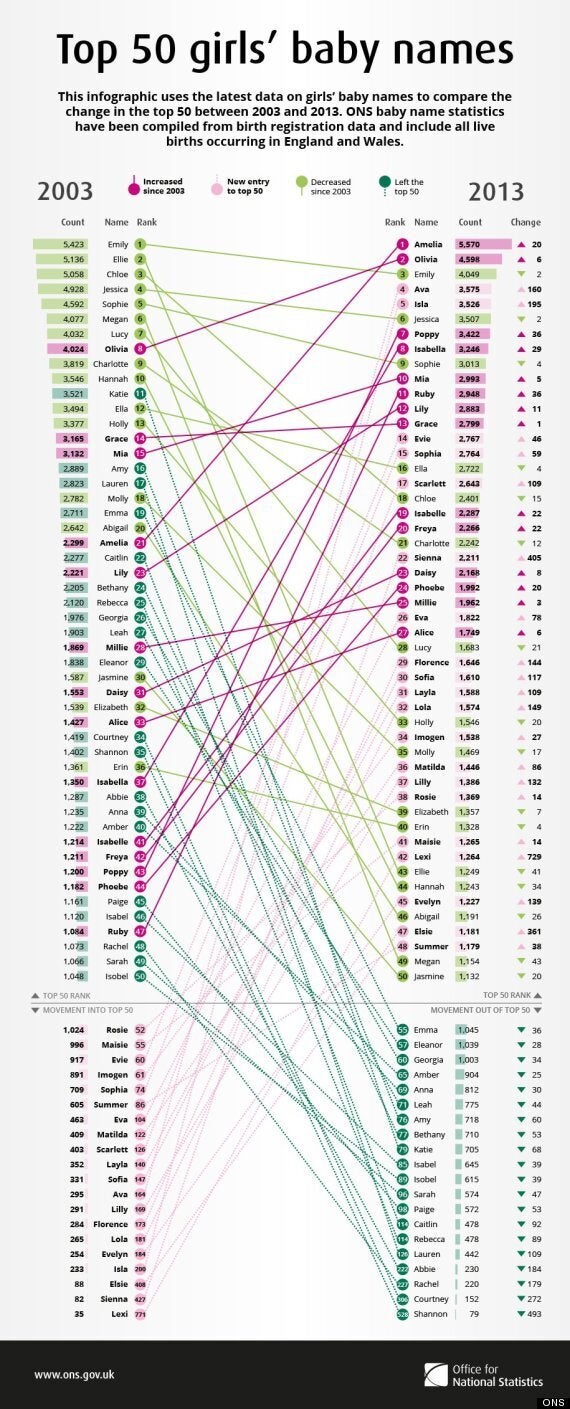 Amelia was the most popular girls name in all regions, but Oliver was top only in some locations, beaten by Muhammad in London, Jack in the East and North East of England and a second spelling of London's top boys name, Mohammed, in the West Midlands.
The Office of National Statistics (ONS), which released the figures, says famous figures or fictional characters often play a role in baby name choice - Wendy became a popular name after the J M Barrie's 1911 story 'Peter and Wendy', featuring Peter Pan, was published.
What celebrities name their own children also affects people's choices: David and Victoria Beckham's choice of Brooklyn, Romeo, Cruise and Harper have all been snapped up by more parents since they were announced.
But trends can also be influenced by other factors such as the religious, cultural and/or ethnic identities of parents or the names of family or friends.
Related