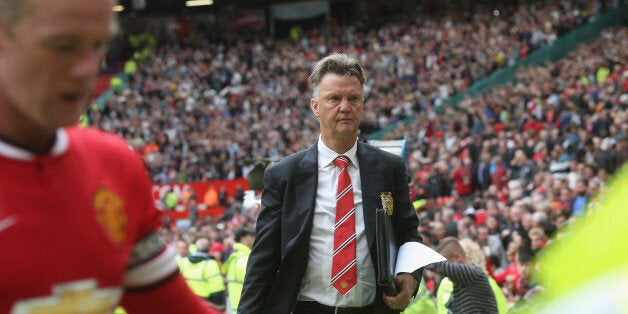 Wayne Rooney cancelled out Ki Sung-yueng's opener but Gylfi Sigurdsson capitalised on some awful United defending to register the Swans' second 2-1 win at Old Trafford this year.
Here are five talking points...
UNITED AS DITHERING AS MOYES
David Moyes had an unwanted knack for breaking records during his 10 months in M16 and Louis van Gaal channelled his spirit as he presided over United's first opening day Old Trafford defeat in the Premier League era.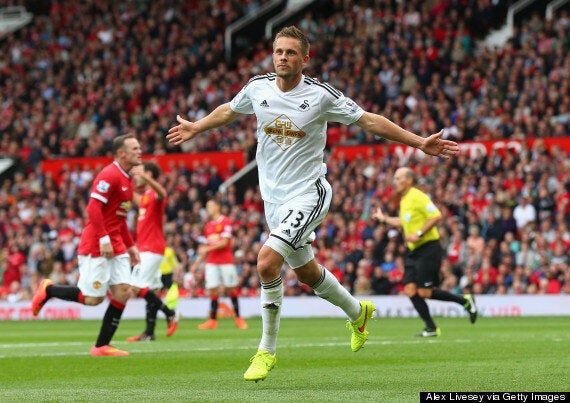 Gylfi Sigurdsson celebrates his winning goal at Old Trafford
Perhaps the most damning verdict of Van Gaal's first competitive game in charge was United looked hardly any different from Moyes' reign. Dutch diplomacy has lulled the club into a false sense of security but the warning signs were patent in the friendly defeat of Liverpool last week when United struggled against a high-tempo English team. They have signed two players all summer - one of whom was injured - and the starting XI against Swansea was ridden with dead wood and resembled a Capital One Cup side. Reliant on Wayne Rooney and teenager Adnan Januzaj again, the sole upside is the defeat might galvanise Van Gaal and Ed Woodward to sign the quality they desperately need.
SWANSEA'S WIN WASN'T A SURPRISE
With all the attention on Van Gaal, United's depleted squad and two young debutants, Swansea were allowed to quietly prepare for the season opener and could hardly have looked calmer. Paul Scholes predicted they would be relegated, which was ample motivation for Garry Monk, who selected a balanced and functional team with a threatening front four that bullied a weak United defence. Ki Sung-yueng and Jonjo Shelvey offered silk and steel in midfield, frustrating the ineffective Juan Mata, Ashley Williams was colossal and Łukasz Fabiański was faultless in goal.
Chris Smalling and Phil Jones have played for Manchester United for a combined total of seven years but looked less composed than a debutant. Tyler Blackett's distributed impressively, was authoritative and looked unnerved by the first-team experience. Smalling's passing is no better than when he joined United in 2010 and Jones is not even as good a right-wing back as Carlos Edwards, never mind Duncan Edwards.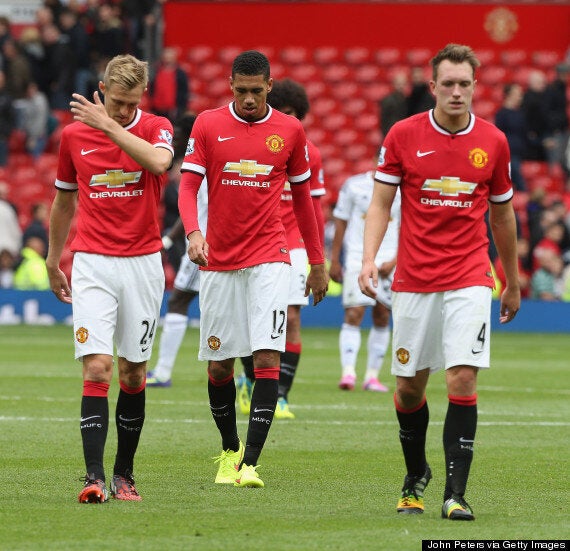 Fletcher, Smalling and Jones trudge off after United's defeat
KOREAN THE KI TO SWANSEA SUCCESS
Plenty of opponents in Ki Sung-Yueng's position in the past would have hit one of the Stretford Enders rather than the back of the net, but the South Korean's finish for the first Premier League goal of the season was nerveless. Struck delicately, yet firmly, it was a quick reminder why Monk has restored him to the Swans' side after a year on loan at Sunderland. Ki is one of the finest technical midfielders in the Premier League and his experience of English football gave him the upper hand over newbie Ander Herrera, dubiously hauled off in the second-half.
His goal aside, Rooney performed poorly as United captain but was not as hopeless as his lieutenant. Darren Fletcher performed well in pre-season but that is all it is - pre-season - an inconsequential, unreliable barometer of a player's worth to a team. The Scot should not be anywhere near the United squad and it showed on Saturday. He was so busy telling Marouane Fellaini what to do he didn't track Gylfi Sigurdsson for Swansea's winner and he was missing for Ki Sung-yueng's opener.
Culling him wouldn't be callous, it would be in United's best interests.