It's that time of year again when West London wafts out those lovely aromas of jerk chicken, fried plantains and litres of rum punch. Yes, we're talking about the Notting Hill Carnival.
With more than 300 stalls lining the streets whipping up platefuls of jerk chicken (5 tonnes were consumed last year), curried goat, rice and peas, and Jamaican patties (flaky pastry filed with various meat fillings and spices), it's the perfect introduction to the delights of Caribbean food.
Carnival food by numbers (and how much gets eaten)

30,000 corn on the cobs
15,000 fried plantains
1 ton of rice and peas
1 ton of Jamaican patties
12,000 mangoes
16,000 coconuts
10,000 litres of Jamaican stout
25,000 bottles of rum
70,000 litres of carrot juice

(Source: London Notting Hill Carnival Limited)
After all, this is where Levi Roots (he of Dragon's Den and Reggae Reggae sauce fame) started.
HuffPostUK Lifestyle caught up with Andrea Brown from Deli Jerk Centre, who are funded by the Prince's Trust and have been serving up traditional Jamaican food at the carnival for the last 14 years.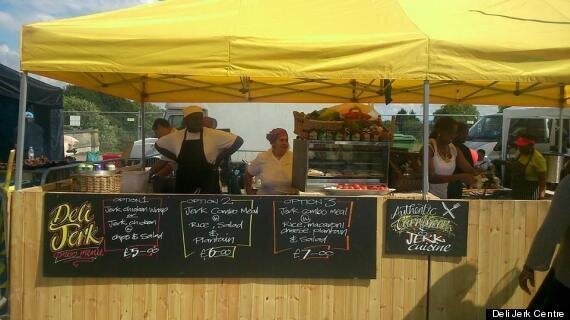 "We will be serving up our Guacho Jerk Menu this weekend. It's a combination of Jerk meats served with traditional Caribbean savoury dishes (such as rice, plantain, macaroni cheese, salad)."
Andrea adds they will probably shift about 1,500 plates and that the favourite is Jerk chicken, pork or curry goat, or their Appleton rum BBQ spare ribs.
If you're not going to the carnival, here are two Caribbean dishes to sink your teeth into from Great British Chefs...
William Drabble's pineapple kebabs with lime crème fraîche and toasted coconut
Pineapple kebabs make for a healthier treat than regular kebabs, and children will enjoy getting involved with the making (and eating) of this lovely dessert.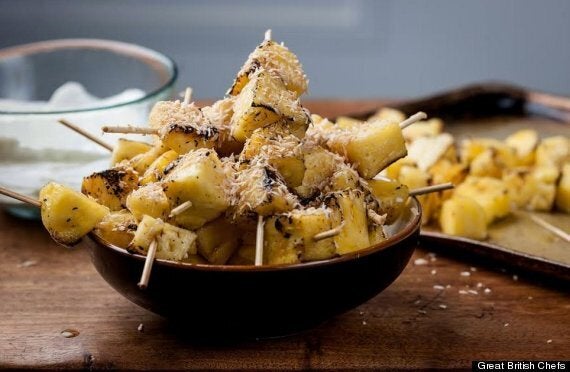 1 tbsp desiccated coconut
Begin by topping and tailing the pineapple. Then remove the skin and cut into quarters, lengthways. Remove its hard core and cut the flesh into 2cm chunks.
Sprinkle a teaspoon of granulated sugar over the pineapple and caramelise under a hot grill, turning it once while it cooks.
Once caramelised, leave to cool then skewer the pineapple chunks and set aside.
Now make the lime crème fraîche. Add a spoonful of water and sugar to the pan, add the grated lime zest and heat until it boils
Once you are left with a syrup, take off the heat and leave to cool. Then, stir in the lime juice and crème fraîche.
Toast the desiccated coconut in a hot pan with no oil until light brown.
Serve the pineapple kebabs with the lime crème fraîche and sprinkle with toasted coconut.
Adam Gray's Barbecued jerk turkey steaks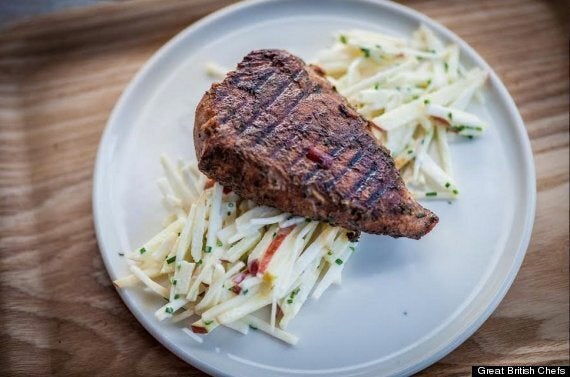 Serves 8 Cooking Time: 20 mins plus overnight marinating time.
1 turkey breast, boneless
4 tbsp of clear runny honey
2 scotch bonnet chillies, chopped
For Celeriac and apple coleslaw:
3 Braeburn apples, peeled and cored
2 tbsp of English mustard
Take the leaves off the fresh thyme and finely chop.
Mix together the chopped thyme leaves, clear honey, ground cinnamon, chopped chillies, allspice and rum.
Cut the turkey into 1.5cm thick steaks and place in a shallow tray.
Rub the jerk seasoning mix thoroughly into the steaks, cover with cling film and leave in the fridge for a minimum of 12 hours - ideally 24 hours.
To make the coleslaw, peel and finely shred the celeriac.
Cut the apples into 1/2cm wide discs and then slice into thin matchsticks. Mix the apple with the celeriac.
In another bowl, mix the mustard and mayonnaise together. Gradually add the mustard mayonnaise to the celeriac and apple, ensuring that final mix is not too wet.
Finely chop the chives and add them to the coleslaw. Season with salt and white pepper to taste.
For the turkey, place the marinated turkey steaks on a hot barbecue, turning over every 4–5 minutes until cooked all the way through.
When the steaks are cooked, remove from the barbecue and leave to rest on a serving tray for 3–4 minutes, to ensure they are moist and tender.
Serve the turkey steaks with the apple and celeriac coleslaw as an accompaniment.
Recipe courtesy of Great British Chefs. For more great barbecue recipes visit their site.