We are giving you the opportunity to see the uplifting and feel-good cultural feast 'The Hundred-Foot Journey' before it is released in cinemas!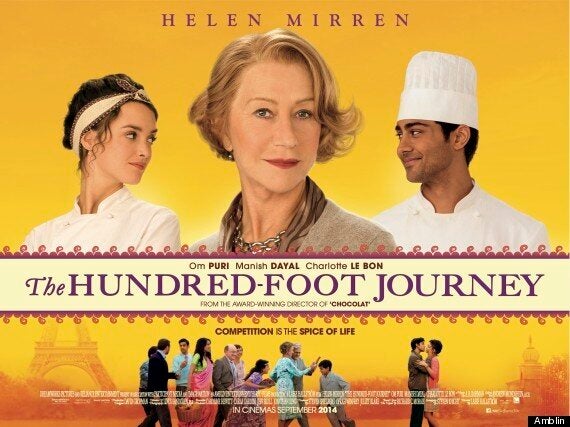 Hassan Kadam (Manish Dayal) is a culinary ingénue with the gastronomic equivalent of perfect pitch. When Hassan and his family, led by Papa (Om Puri), move to a quaint village in the South of France with the grand plan of opening an Indian restaurant in the picturesque countryside, they are undeterred by the fact that only 100 feet opposite stands a Michelin starred classical French eatery.
However upon encountering the icy proprietress, Madame Mallory (Helen Mirren), the Kadam family realise they may have bitten off more than they can chew. Outraged by the new arrivals, Madame Mallory is determined to have their business shut down. As cultures clash and food flies, an all-out war escalates between the two establishments – until, that is, Hassan's passion and talent for French cuisine begin to enchant Madame Mallory and even she can't deny this young chef could have what it takes to garner even more acclaim for her beloved restaurant.
This, along with his new-found friendship with her beautiful sous chef Marguerite (Charlotte Le Bon), starts to weave a magic between the two cultures and, despite their different tastes, they discover an unlikely recipe for success that surprises them all.
An uplifting and feel-good cultural feast full of Indian spices, French sophistication and British wit. Based on the international best selling novel by Richard C. Morais, 'The Hundred-Foot Journey' directed by Lasse Halstrom (Chocolat) and produced by Oprah Winfrey, Steven Spielberg and Juliet Blake.
We have a number of seats available for advanced screenings at the following locations on Tuesday 26 August and all you have to do is CLICK HERE to request a pair of FREE tickets! Tickets are allocated on a 'first-come-first-served' basis (terms and conditions apply).
If that wasn't enough to wet your appetite, you could also win some 'The Hundred-Foot Journey' merchandise by tweeting your review of the film after the screening, making sure to include the hashtag #100FootJourneyReview in your tweet.
TERMS AND CONDITIONS:

Entrants must be over the age of 13; if an entrant is under the age of 18, they MUST use their other screening ticket to take an adult or guardian over the age of 18

The prize does NOT include travel or accommodation nor does it cover any additional costs

All attendees of the screening will also have the chance to win some The Hundred-Foot Journey merchandise by tweeting their review of the film after the screening making sure to include the hashtag #100FootJourneyReview. Additional terms and conditions apply as below:

Competition is open to UK residents

Entrants must be over the age of 13

All attendees of all three screenings of The Hundred-Foot Journey in London, Manchester and Birmingham on Tuesday 26 August are eligible to enter using the dedicated hashtag and winners we will be chosen at random from all entries across all screenings

There will be four winners selected in total across the three screenings

Entrants must include the correct hashtag #100FootJourneyReview in their entry Tweet to be eligible for this prize and must submit their review within 24 hours of the screening taking place on Tuesday 26 August

The four winners will be picked at random from all entries using the hashtag #100FootJourneyReview and will be notified via Twitter

Prize for x4 winners is x1 The Hundred-Foot Journey set of goodies which includes x1 apron, x1 natural bag, x2 casey jars, x1 recipe journal and x1 spatula only

The winner must respond accepting the prize within 5 days of notification otherwise the promoter reserves the right to redraw the prize from the remaining eligible entries up to 3 times before the competition is then declared void

The name, email address and contact number of the four winners will be requested via Twitter for prize fulfilment and will be passed to a third party provider for prize arrangement

In the unlikely event the prize style has discontinued a similar model to the same value will be provided

There is no cash or other alternative to the prize stated and the prize is non-transferable and no part or parts of the prize may be substituted for other benefits, items or additions

By entering, all entrants consent to the use of their personal data by the Promoter for the purposes of the administration of this prize draw and any other purposes to which the entrant has consented

The merchandise prizes will be delivered to the winners within 28 days of confirmation of delivery address

The Editor's decision is final and binding on the entrants. No correspondence will be entered into