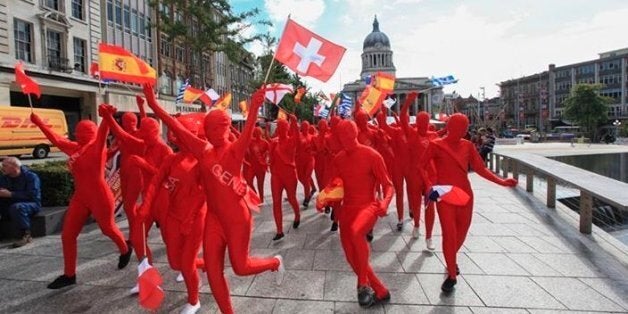 In perhaps a tragic sign of the times, a promotional giveaway by an airline turned into a frenzied fight as people "desperately" competed to obtain free flights.
A group of young women kitted out in red spandex onesies ended up fleeing from a overly-excited crowd after parading through the streets of Derby in what was supposed to be a fun publicity stunt by Jet2.
But the BBC reported that in the climax of the mayhem some of the spandex-clad women were violently rugby tackled to the ground, "crying in distress".
The report noted that Jet2 said the same stunt went "smoothly" in Nottingham and Leicester.
"It was so badly done, all I wanted was a pair of tickets for my honeymoon and I thought it would have been a "spin the wheel" or "pick an envelope" kind of thing but it turned out to be a mob of people attacking each other and it was not worth getting injured for it," she wrote.
"A lot of people got hurt and then I saw two winners sell their tickets they had won to some random person walking down the street, hardly fair and was not worth fighting for. Really disappointed with how this was done and the nature of some people, literally attacking others."
Charlene Coy added that she and a friend were also hurt in the chaos and they had a baby and toddler with them.
"People were attacking each other. I have never seen anything like it at all. We got elbowed in the face, for what, some hooligan man scrambling for tickets, not impressed!"
George Salloway, 18, told the BBC he helped one of the women after seeing her "rugby tackled to the ground by an older woman."
"She was clearly so upset. There were tears, she was shaking and it was just horrible to be there really," he said.
Another Derby resident, Alice Marston, said: "I waited for ages in Leicester and all I got was an elbow to the head, a huge headache and crushed by a mob of people."
Jet2 apologised for the giveaway generating "a little more excitement than anticipate."
"We know some people were disappointed, but watch this space," they added.