After suffering years of coalition, Nick Clegg is finally being honoured with a film about his role in its creation - just in time for next year's election.
The one-off Channel 4 drama will chronicle the days after the 2010 election, during which the Lib Dems and Tories thrashed out the country's first coalition government in decades (after plenty of backroom deals and compromising).
See also: Nick Clegg: The TV Movie - A First Look At The Poster
Who would play the Lib Dem leader? Speculation has been rife, with one source close to Clegg quipping: "That would explain why Michael Fassbender keeps calling."
Twitter has unsurprisngly seized upon this news in order to mercilessly mock news of Clegg's upcoming movie, offering a series of parody "#LibDemFilms".
Clegg The Barbarian #LibDemFilms pic.twitter.com/0duhKNqchH

— General Boles (@GeneralBoles) August 22, 2014
Some focused on Lib Dem rising stars like David Laws, who could rise from the deep to take over as party leader.
more #LibDemfilms, sans Clegg pic.twitter.com/awem0KFlEf

— Jamie Douglass (@JamesLDouglass) August 22, 2014
Business secretary Vince Cable, frequently mooted as a replacement for Nick Clegg, was also suggested.
#LibDemFilms V for Vince Cable

— Mark Wallace (@wallaceme) August 22, 2014
Others went straight for the jugular, casting Clegg in one of Jim Carrey's classic roles.
#LibDemFilms Liar Liar. @ThePoke pic.twitter.com/bW1hSGp66q

— Robert Bailey (@Bailey92Robert) February 28, 2013
Chris Huhne, who was forced to resign as environment secretary to face trial over speeding charges, was also suggested as an ideal Lib Dem film star.
.@asabenn Speed (starring Chris Huhne) #LibDemfilms

— Richard Dunstan (@Wonkypolicywonk) August 22, 2014
"@ThePoke: #LibDemFilms Dude, who's in the car? #LibDemFilmPosters pic.twitter.com/o3w74hO95E

(via @Bailey92Robert)" @KieranThorpe

— Hardcore MikeeJay (@MikeeJay1974) February 28, 2013
One Tory MP got in on the act with a swipe at the Lib Dems' "one face [and] many names".
More #LibDemfilms

Zoolander -doing the David Blue Steel:

One face, many names (Liberals, SDP, Liberal Democrats etc) pic.twitter.com/5rJ7qy5ITg

— Karl McCartney (@karlmccartney) August 22, 2014
While many others just mocked how miserably the Lib Dems are doing in the polls.
Best #LibDemFilms: The importance of being (unbearably) earnest (@robvsnature) and The silence of the Lib-Lambs (@Groovy23) :)

— Tim Montgomerie (@TimMontgomerie) August 22, 2014
@Pads45N @DavidMills73 @wallaceme Honey I Shrunk the Libs #LibDemfilms

— James Clark (@Ronin_Jim) August 22, 2014
And here are our very own offerings, from our picture-wizards at HuffPost UK Pics: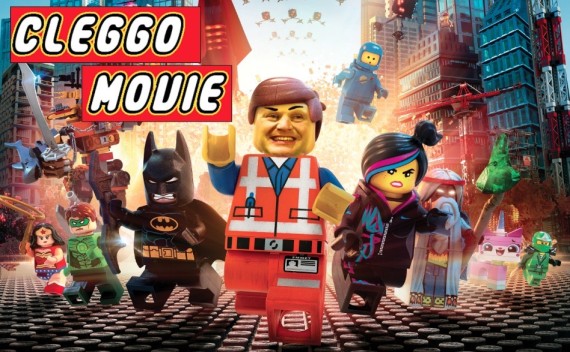 And from HuffPost UK Comedy:
A first look at the poster for Nick Clegg: The TV Movie. http://t.co/xzUvUwD2ep pic.twitter.com/0e8tR4I3nv

— HuffPost UK Comedy (@HuffPostUKCom) August 22, 2014