Lewis Hamilton has sensationally claimed Nico Rosberg deliberately crashed into him in Sunday's controversial Belgian Grand Prix.
The incident occurred on lap two of the race at Spa-Francorchamps, with Hamilton leading after passing Mercedes team-mate and polesitter Rosberg off the line.
Approaching the right-hander at Les Combes at the end of the Kemmel Straight, Rosberg attempted a passing manoeuvre on Hamilton, only to seemingly back out.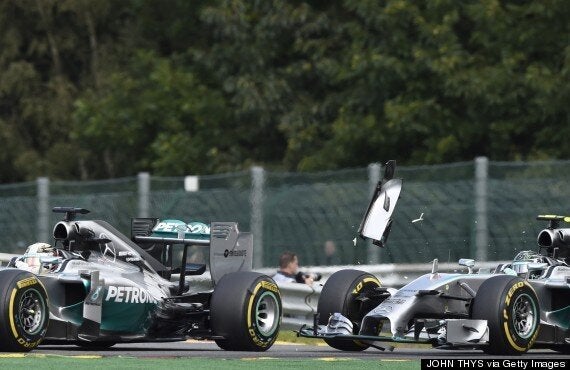 Rosberg and Hamilton's rivalry intensified at Belgium
In doing so, it resulted in contact between the two for the first time, with Rosberg's right front-wing endplate clipping Hamilton's left-rear tyre.
It created a puncture that resulted in a long three-mile return back to the pits for Hamilton, ultimately wrecking his race in which he retired at the end of lap 39 of 44.
As for Rosberg, he went on to claim second place and has now opened up a 29-point cushion over Hamilton with seven races remaining.
The incident resulted in a heated, angry meeting between Hamilton, Rosberg, Mercedes motorsport boss Toto Wolff, technical executive director Paddy Lowe and non-executive chairman Niki Lauda.
Following the meeting, Hamilton dropped a bombshell when he said: "We just had a meeting about it and he basically said he did it on purpose. He said he did it on purpose.
"He said he could have avoided it. He said 'I did it to prove a point', he basically said 'I did it to prove a point'.
"And you don't have to just rely on me. Go and ask Toto, Paddy and all those guys who are not happy with him as well."
Related