Alex Salmond's victory in last night's debate on Scottish independence will "raise the hearts" of Yes campaigners but it "remains to be seen" whether it will inject momentum into the campaign, an expert has said.
Research by ICM for the Guardian newspaper showed 71% of people questioned thought Salmond had been the better performer in the BBC clash, compared to 29% for Better Together head Alistair Darling.
Speaking on post-debate analysis on BBC Scotland, Prof John Curtice, from Strathclyde University, said: "I think we can anticipate that certainly most commentators will reckon that probably Mr Salmond was the winner tonight, but whether he has done enough to move the numbers I think may be another question.

"What was remarkable about tonight's debate was how little time was spent on the issues we know are likely to switch voters minds and that is what are the prospects for Scotland's economy, either independence or in the union."
"The question that remains to be seen ... is to whether Mr Salmond has done enough to inject some degree of momentum into the Yes campaign. What I think it certainly will do, it will raise the hearts of Yes supporters."
The SNP leader outlined the three options should Westminster reject a currency union - using sterling outside of the Union, the Euro and a Scottish currency.
However, Salmond insisted he was seeking an mandate from the Scottish people to call for a formal currency union with the rest of the UK. Meanwhile, Darling repeated his calls for the First Minister to come up with a Plan B.
Research by ICM for the Guardian newspaper showed 71% of people questioned thought Salmond had been the better performer in the BBC clash, compared to 29% for Darling. A similar survey after the first head to head debate between the two men last month suggested the former chancellor had scored a narrow victory over the SNP leader.
Speaking for the Better Together campaign, Labour MP Douglas Alexander said: "I think there's a difference between performing and persuading. If these debates determined the outcome of elections in terms of performance, I expect Nick Clegg would be Prime Minister this morning.
"I think he (Alistair Darling) asked the questions we need answers to. Postal ballots drop in 48 hours' time, we're still in a position where we don't have clarity from the First Minister in relation to currency, pensions and oil and actually, I think, the Yes campaign are where they did not expect to be, they're haunted be a series of basic questions as the postal votes drop."
On keeping the pound, Salmond said: "I want people to back the proposition that we should share sterling in a currency union. That mandate is crucial, and that is what I want people to support, because I believe if they support it and send me into negotiations as First Minister then that will be the outcome.
"I have set out the options to point out there are other things we could do. But I go as First Minister to argue what is best for the people of Scotland. If I was to go in arguing for second best, then second best is what we would get."
Darling said both sides would have to agree to a currency union. "You are taking a huge risk if you think it is just all going to fall into place.
"I think the currency union would be bad for Scotland because our budget would have to be approved not by us, but what would then be a foreign country.
"It wouldn't be best for the rest of the country either." Darling returned to his demands for Salmond to name his Plan B if a currency union cannot be agreed. Salmond responded: "I set out the options very clearly - three Plan Bs for the price of one. They are just like buses...you expect one and then three turn up at once."
He added: "We don't need permission to use our own currency. The argument actually is that they will deny us the assets of the Bank of England. The reason that won't happen is that if you deny us the financial assets, then the UK will get stuck with all of the liabilities."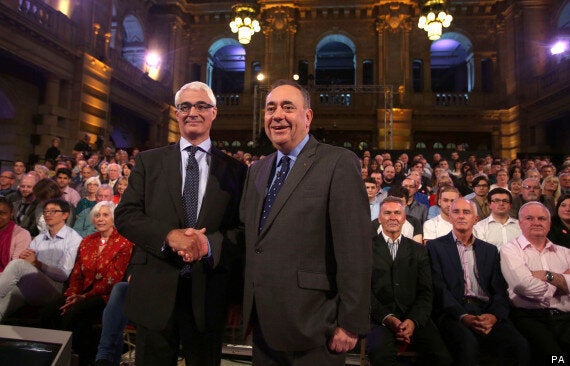 The second debate took place at Kelvingrove Art Gallery, Glasgow
Yes Scotland chief executive Blair Jenkins welcomed the results of the ICM poll and expects undecided voters will move towards the pro-independence campaign.
Speaking on BBC Radio Scotland, he said: "We heard wall-to-wall sunshine in the weather forecast and I think it's wall-to-wall sunshine for the Yes campaign as well. People will be enormously strengthened and I think will take a lot from last night.
"More important than anything else, I think voters who are still making up their minds will have no doubt where the best arguments are."
He added: "This is not a presidential election, this is not about voting for a politician or a party. It's much, much bigger and much more important than that, so I think you won't necessarily get people moving instantly from last night but they will now reflect on what they saw and heard."
Salmond said no chancellor would let Scotland away with its share of the debt liabilities and therefore a currency union would be agreed.
Darling said: "If your first message in the world is here we are, here is Scotland, and by the way we've just defaulted on our debt, what do you think that would do to people who are lending us money in the future. Nobody would lend us any money in the future."
During the debate both politicians stressed their desire to build a fairer society as they made their opening statements. But while Salmond argued "more and more Scots" were favouring independence, the former chancellor continued to press him for answers on the impact of leaving the UK. The First Minister said this was an "extraordinary time" for Scotland with "the eyes of the world" focused on the nation.
He said Scotland had voted on the country's future twice before - in 1979 when insufficient voters backed a devolved assembly and in 1997, when the ballot that established the Scottish parliament was held.
"Twice before in Scotland's recent history we've stood at the crossroads," the SNP leader said. In 1979 we didn't get the Parliament we voted for but instead got 18 years of Tory government - Margaret Thatcher, the deindustrialisation of Scotland, the poll tax.
"In 1997 we took our opportunity and since the Parliament came to Scotland life has got better. We introduced free personal care for the elderly, we removed tuition fees. But there is much, far to much, that is still controlled by Westminster.
We couldn't stop the bedroom tax, we can't stop illegal wars, we can't stop the poor and disabled bearing the brunt of welfare cuts, we can't stop the spread of foodbanks in this prosperous country, we can't stop countless billions being wasted on a new generation of weapons of mass destruction.
"Now we have the opportunity to change all of that. Three weeks on Thursday we can take matters into Scottish hands. Next to no-one wants to go backwards, more and more Scots want to complete the home rule journey." He added: "We are a rich nation, a resourceful people. We can create a prosperous nations and a fairer society, a real vision for the people of Scotland. This is our time, it's our moment, let us do it now."
While Darling said his rival might have "some good lines" he added: "A good line is not always a good answer, it's answers now we need." He said Salmond was "asking us to take his word for it on everything, no plan B for anything". But he continued: "The basic difference between Alex Salmond and me is this, my first priority is to build a fairer and better society. His first priority is to create a separate state no matter what the risks and what the cost.
"While he has spent the last two years talking I have been listening. I know people want change, but they also want security on jobs, on pensions, on their children's future. That's why my message is that no thanks will not mean no change. That's why there will be more powers for the Scottish Parliament on tax, on welfare, on everything that makes sense to decide here. We have delivered before we will deliver again.
"Tomorrow we Scots will start voting by post, so we need answers tonight, right here, right now. The United Kingdom is about sharing risks and rewards with our neighbours, being part of something bigger gives us opportunities and security as well as our Scottish identity in decision making."
The first part of the debate, held at Glasgow's Kelvingrove Art Gallery and Museum, covered economic issues including currency and oil and gas revenues. Both leaders were asked about oil and gas estimates following the intervention of Sir Ian Wood, an industry expert who believes the Scottish Government has over-estimated the remainder of reserves in the North Sea.
Darling warned that successive governments over the years have been too optimistic about the amount of production and therefore the amount of revenue from oil, while Salmond said no country would view oil as anything other than an asset. Darling said: "The Office for Budget Responsibility, as you say, has given its estimates, and it has proved to be too optimistic.
"In the past couple of years the amount of revenue we have got from the North Sea has been £5 billion less than was expected. That is equivalent to more than we spend on schools in Scotland and almost half of what we spend on the health service."
Salmond hit back: "The No campaign, the Tory party, the Labour party, are the only people in the world who argue that the possession of substantial amounts of oil and gas are somehow a curse as opposed to an asset for a country."
He added: "North Sea oil and gas is about 15% of Scotland's overall economy. It is about 20% of Norway's overall economy, and I haven't seen it doing Norway much harm. The reality is that North Sea oil and gas will be with us way beyond 2050."