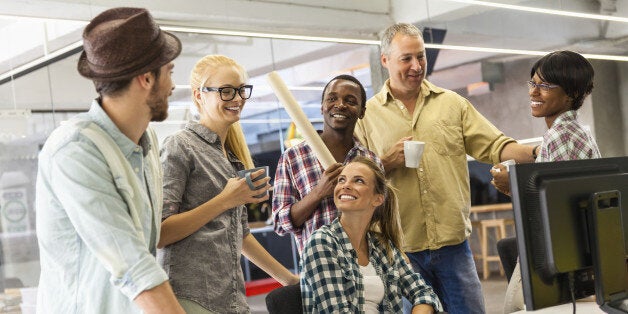 The British public does not see international students as immigrants and are opposed to attempts to reduce their number in a bid to lower net immigration, according to a new study.
The report suggests the Government should remove them from immigration targets and support attempts to attract even more to come here to study.
It was carried out by the British Future think tank and Universities UK, the representative organisation of the country's universities.
David Cameron has said he is seeking to reduce net migration to the ''tens of thousands''.
From November, the threshold for stripping educational institutions of their ''highly-trusted sponsor'' status will be cut, so that they lose it if 10% or more of the individuals they offer places are refused visas, rather than the present 20%.
According to the new report, international students are the largest group of migrants from outside the EU counted in the Government's immigration figures.
But a poll of 2,111 people found just over one in five (22%) class overseas students as immigrants, and only the same amount would support a reduction in their numbers.
When people are told that students are part of the Government's immigration target, "the most common reaction is surprise and even bafflement that international students are classified as immigrants at all," the report found.
Almost six out of 10 (59%) people say the Government should not reduce the number of international students, even if it makes it harder to reduce immigration numbers. The figure was even higher for Conservative voters, at 66%.
Meanwhile three in four (75%) are in favour of allowing them to stay on and work after they finish their degree, with support rising to 81% for Tory voters.
And 60% think international students bring money into the local economy, compared to just 12% who think they are a net drain.
Steve Ballinger, director of communications for British Future, said: "It is true that people in Britain are concerned about immigration.
"What they're not worried about are international students coming here to study at our universities. The vast majority don't see international students as immigrants at all.
"Trying to get net migration down by targeting international student numbers would be unpopular and would fail to address the public's anxieties about immigration.
"Instead it would cost Britain the widely-recognised benefits that those students bring, both to local economies and to our world-class universities."
Professor Sir Christopher Snowden, president of Universities UK, claimed the "current one-size-fits-all" approach to immigration must be changed.
"Although the UK remains one of the most attractive destinations in the world for international students, it is our competitor countries that are seeing large rises in international student numbers," he said.
"With international students being caught up in efforts to bear down on immigration, there is a perception internationally that the UK is closed for business and does not welcome students.
"The call to remove international students from any net migration target has clear public support."
Tory MP Mark Field, chairman of a group named Conservatives for Managed Migration, said: "Politicians are rightly expected to engage with public concerns about immigration, and the Government has done so admirably, but it is time politicians recognised that there are different types of immigration.
"This report shows that the public already makes those distinctions and in fact has a pragmatic and nuanced view about the kinds of migration that best reflect our nation's interests and values.
"This report demonstrates there is a broad public consensus that international students are good for Britain."
Tory former deputy prime minister Lord Heseltine said overseas students should not be part of the debate on immigration.
He told BBC Radio 4's Today programme: "There's no question about abandoning the immigration target or of the need to have very rigorous controls.
"The thing got out of control under the last Labour government and this Government is doing its best to try to regain the borders.
"But I think that students are really not what people perceive as immigrants.
"Students come here to our universities, which are world-class - if they weren't world-class they wouldn't come here.
"So, you have got two huge assets: one is the prestige of Britain's universities and the ambassadorial role which students who graduate here take with them out into the world wherever they go after graduation; and then you have got the huge financial stability that foreign students bring to the universities in this country, enabling them to maintain their standards of excellence."
Migration Watch UK's chairman Sir Andrew Green said: "Nobody is against genuine students who return home but Lord Heseltine has not realised that only one third of non-EU students actually do so.
"The student route has become a massive hole in our immigration system. That is why the Government must stick to their guns on this matter."