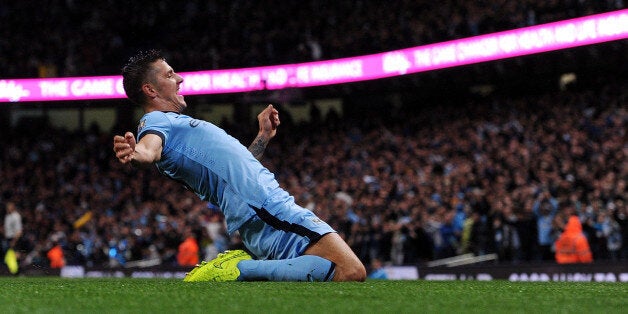 Stevan Jovetić pounced either side of the interval and substitute Sergio Agüero struck within seconds of his introduction before Pablo Zabaleta's own goal for the visitors.
Here are five talking points...
JOVETIĆ MAKES THE MOST OF HIS CHANCE
Liverpool will be relieved to see the back of Stevan Jovetić, who scored twice against them for the second time in successive months. As Manchester United will attest, pre-season is an unreliable barometer of progress however Jovetić has has brought his friendly fire across the Atlantic and the clichéd "like a new signing" seems to apply to the Montenegrin.
Jovetić capitalised lethally on the dithering Alberto Moreno and Jordan Henderson for both goals to cement his status, belatedly, as an integral member of this City side. The uncertainty surrounding the injured Álvaro Negredo's future and Edin Džeko's lethargic start to the season will only amplify his predatory performance at Eastlands and it will be fascinating to see how he and Agüero fare as a partnership.
Mario Balotelli is the ninth signing Brendan Rodgers has made this summer and Liverpool still look shy of two or three players if they are to go one better than last season. They were the better side for 30 minutes at City however sterile domination is not chiselled on the honours' board and the glaring reality is the gap between the two clubs has widened.
Jordan Henderson will be mortified by how easily Jovetić lost him for his second goal and, despite the arrivals of Adam Lallana and Emre Can, Liverpool lack a top-drawer presence in central midfield. Henderson actually looked livelier in the City third but neither he nor Joe Allen are specifically defensive-minded, a la Fernando or Fernandinho.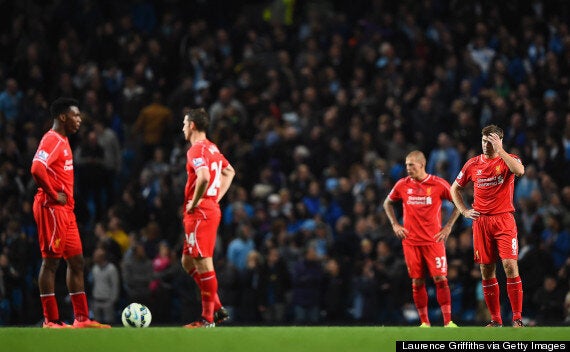 Liverpool still look short of two or three players
DŽEKO RESTS ON HIS LAURELS
Too many City players looked cumbersome in the opening half-an-hour but Edin Džeko gave the impression the Manchester rain had reduced the surface to a quagmire. Pellegrini overloaded City with too many powerhouse players to counter their lithe opponents and it contributed to a stunted style up front that lacked the verve of Sergio Agüero.
Džeko enjoyed a fantastic finale to last season, was recently rewarded with a new contract and still looked in holiday mode. He should be fresher than Agüero but on the basis of City's two Premier League matches isn't, and Agüero quickly proved his point seconds after replacing him.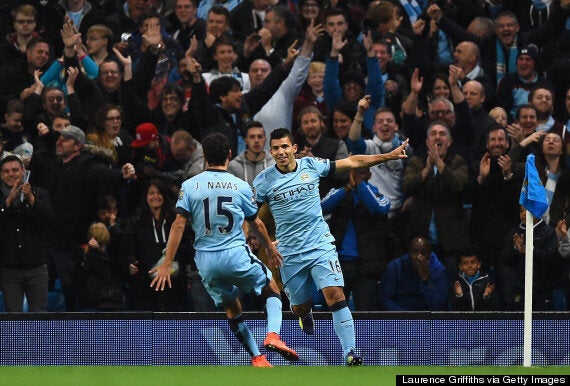 Sergio Agüero scored within minutes of his introduction
Of much more concern to Rodgers than his midfield is the Liverpool defence. Dejan Lovren will draw ire from the defenders' union for Agüero's goal but Simon Mignolet's poor positioning was compounded by him feebly allowing the ball to actually roll underneath his hand.
On the same ground where he gifted Álvaro Negredo a Boxing Day winner Mignolet was also beaten too easily for Jovetić's opener. Rodgers has done excellent work upgrading Liverpool from a seventh-placed side to one just a slip away from the title, however Pepe Reina's exclusion in favour of Mignolet is perhaps the only position he has downgraded in. Reina's demotion was long overdue but you will be hard-pressed to find anyone convinced Mignolet is a better goalkeeper.
Manchester United ended their interest in Fernando quickly in the summer and it is difficult to justify that. Despite his 27 years, Fernando was in the last year of his contract at FC Porto and he cost City just £12m. His Blues career is only three games old but he is an early contender for the signing of the season.
Pellegrini will possibly partner him with partial namesake Fernandinho in specific League and European ties yet, as the only City newcomer starting on Monday night, the transition was hardly noticeable as the Brazilian continued to deputise dependably for his compatriot.