Islamic State (ISIS) jihadists in parts of Syria are carrying out regular amputations, lashings, public executions and mock crucifixions, according to a stark report published after a three-year UN investigation into the war-torn state.
The report on the Syrian Arab Republic for the UN Office for Human Rights details how "war crimes and crimes against humanity" are being inflicted on the Syrian people by rebel and ISIS extremists, and by the regime of Bashar al-Assad, which continues to deploy chemical weapons in civilian areas.
The report states: "In areas of Syria under Isis control, particularly in the north and northeast of the country, Fridays are regularly marked by executions, amputations and lashings in public squares.
"Executions in public spaces have become a common spectacle on Fridays in (IS power-base) Raqqa and in (IS)-controlled areas of Aleppo governorate... Bodies of those killed are placed on display for several days, terrorising the local population."
According to the UN report, boys as young as 15 are being beheaded, while women are lashed for "crimes", such as being inappropriately dressed, or are being stoned to death over accusations of infidelity.
The report adds that civilians, including children, are rounded up and forced to watch the acts of brutality as a warning, while many boys, some as young as 10, are being recruited to the ISIS cause for use in combat or on suicide missions.
The investigation also warns that fighters from rebel groups opposing Assad are defecting to ISIS due to its "superior financial and operational capabilities," whilst decrying how sever rebel groups have targeted civilian infrastructure, including schools, in regime-controlled areas of the country.
Likewise, the regime is accused of killing hundreds of civilians through the "indiscriminate firing of missiles and barrel bombs", while government forces are said to have carried out similar atrocities in the form of state-backed rape, torture and executions.
Last April, the regime is said to have used the chemical agent chlorine in barrel bombs on eight separate occasions - all were fired into civilian areas. "Witnesses saw helicopters drop barrel bombs and smelled a scent akin to domestic chlorine immediately following impact," the report says, with victims suffering "vomiting, eye and skin irritation, choking and other respiratory problems".
Similar war crimes are being carried out by ISIS across the border in Iraq, with last week's execution of journalist James Foley sparking outrage in Western countries, with Britain and the US leading a manhunt to identify the "British" killer.
"I hope God gives me the chance to do such a thing as the brother did with James Foley, whether it be on somebody like James Foley, a solider of Bashar al-Assad or a soldier of America, my hands are ready to do this blessed act," he said.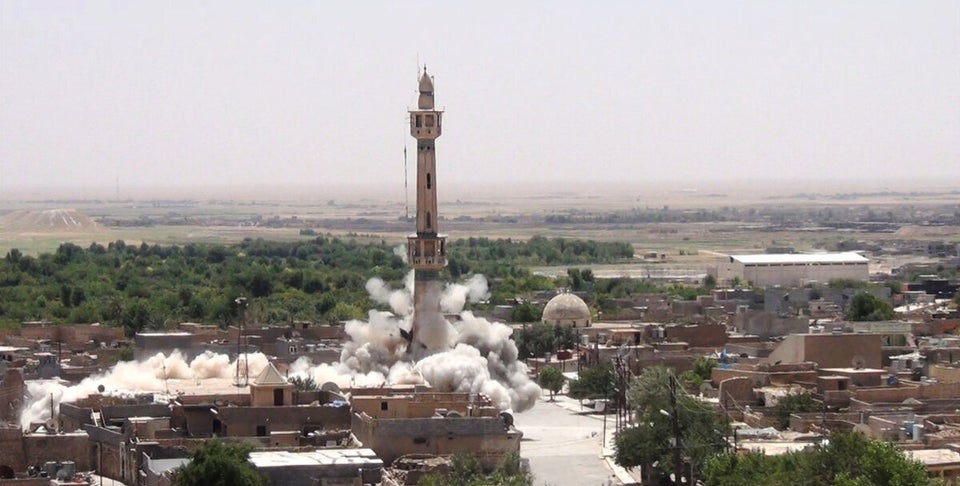 ISIS Destroys Shia Mosques And Shrines