Britain's largest drug company is to begin trails of an experimental Ebola vaccine, as a top public health official warned the crisis in west Africa is likely to worsen.
Tom Frieden, director of the US-based Centers for Disease Control, said the epidemic would need an "unprecedented" response, according to the BBC.
"The cases are increasing. I wish I did not have to say this, but it is going to get worse before it gets better," he admitted.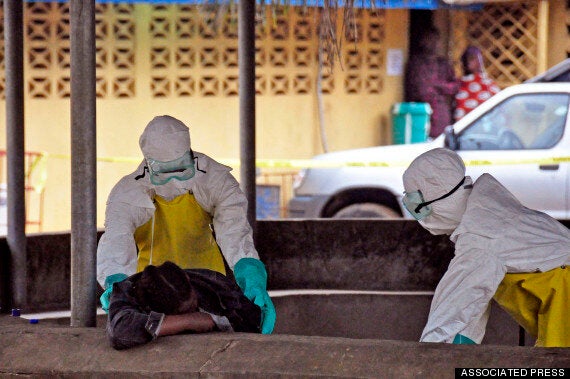 Health workers move the body of a fellow doctor who was found dead in a seat at one of the largest hospitals in Monrovia, Liberia
"The world has never seen an outbreak of Ebola like this. Consequently, not only are the numbers large, but we know there are many more cases than has been diagnosed and reported," he added, as he met with Liberian President Ellen Johnson Sirleaf.
GlaxoSmithKline is to begin vaccine tests as early as next week, in conjunction with the Vaccine Research Centre of the National Institutes of Health in the US, according to the Guardian.
The Phase-I trials, the first tests on human patients, have been given the go-ahead by the US Food and Drug Administration, Bloomberg reported.
Michael Kurilla, director of the Office of Biodefence, Research Resources and Translational Research, told the newswire that the vaccine could be given to health workers and patients in west Africa, but assessments will take about a month.
The World Health Organisation says that more than 2,500 people have been killed by the latest outbreak in West Africa, where the fatality rate stands at 90% if it goes untreated.
On Wednesday, doctors said will continue to monitor the effects of another experimental drug on Britain's first confirmed Ebola patient, with the next few days described as "crucial".
Doctors caring for William Pooley at the Royal Free Hospital in north London said he had been given ZMapp, which has been dubbed by some as the "cure" after two aid US workers were successfully treated for Ebola after taking it
Describing him as a "resilient and remarkable young man", medics said he was sitting up, reading and chatting to staff.
The 29-year-old volunteer nurse was flown back to the UK for emergency treatment after contracting the virus in Sierra Leone.
Dr Michael Jacobs, consultant and clinical lead in infectious diseases at the hospital, confirmed he had been given a first dose of the drug on Monday with more to follow "in due course".
He said: "It is an experimental medicine, we made that absolutely clear in our discussions with him. We thought there was sufficient reason to offer it to him and have the discussion. He considered his options very, very carefully. He wanted to weigh up what we knew about it and he came to the very clear conclusion in his own mind that he would like to go ahead with the treatment."
He said it was "too early" to say what impact the drug has had but added: "Pleasingly, it seems to have had no side effects at all."
Dr Jacobs said they had acquired the ZMapp through the hospital's "clinical networks" and cited support they received from "international colleagues".
Popular in the Community