The young homeless man who Miley Cyrus took as her date to the VMAs last weekend, Jesse Helt, has turned himself over to the police for violating the conditions of his probation.
After winning the coveted Video of the Year prize at the MTV ceremony on Sunday night, Miley sent Jesse up to collect her award in her place, where he delivered a touching speech to raise awareness of homelessness among young people, revealing that he himself had lived on the streets.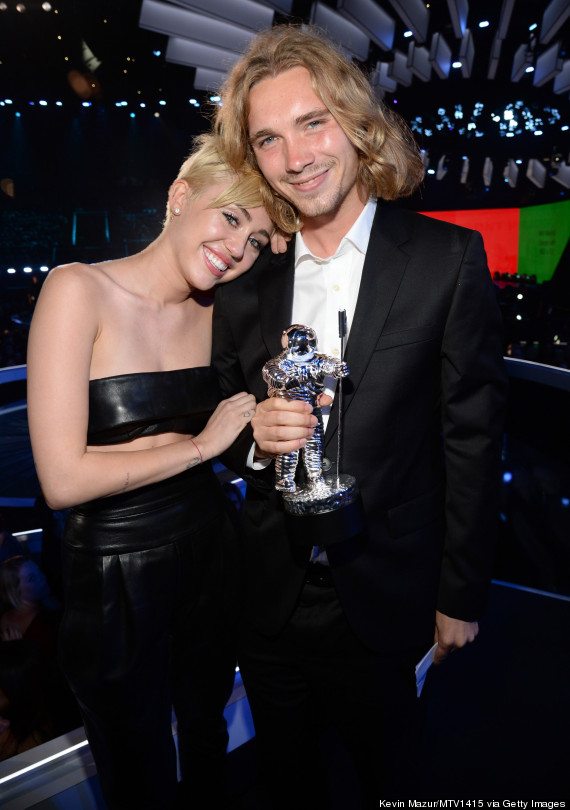 Miley Cyrus and Jesse Helt at the VMAs
However, it later emerged that while he was still living in his home state of Oregon years earlier, Jesse had been sentenced to 30 days in jail and probation after pleading guilty to misdemeanor criminal mischief and criminal trespass.
A warrant was then issued for his arrest in 2011, after he violated his probation.
According to MailOnline, he was first arrested in 2010 after being accused of breaking into the home of a man he believed had sold him "bad marijuana". He then moved to Los Angeles in 2011, where he was on the run from authorities and sleeping on the street while trying to find work as a model.
Jesse turned himself in at Polk County Jail in Dallas, Oregon on Thursday evening, after the news broke about the criminal activity in his past.
The 'Wrecking Ball' singer has sprung to the defence of her friend on her Twitter page, claiming that the focus on Jesse's past was distracting from the real issue of youth homelessness.
She wrote:
The media never fails to disappoint. You've chosen to go after Jesse instead of covering the issue of youth homelessness :(

— Miley Ray Cyrus (@MileyCyrus) August 26, 2014
While they obsesses over one homeless mans legal issue lets help the other 1.6 million homeless youth http://t.co/VE6P9yfAVX

— Miley Ray Cyrus (@MileyCyrus) August 26, 2014
Meanwhile, Miley has revealed that taking Jesse to the VMAs was just the beginning of her efforts to raise awareness of youth homelessness.
LIKE US ON FACEBOOK | FOLLOW US ON TWITTER