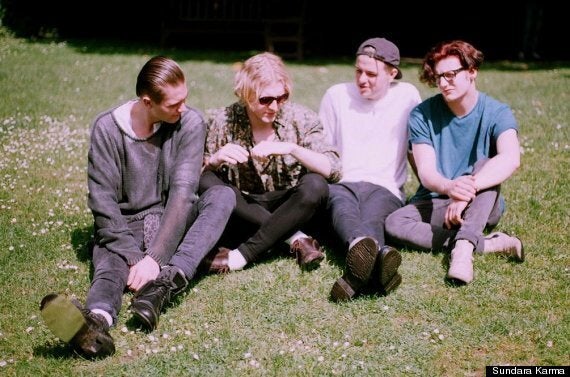 From left to right: Dom Cordell, Oscar Pollock, Ally Baty and Haydn Evans
Freshers-to-be up and down the country may be fretting about how many ringbinders to take to university, or whether Poundland does shot glasses, but one group of A-level students are more concerned about which festival to play next.
Sundara Karma, made up of Berkshire 18-year-olds Oscar Pollock, Haydn Evans, Ally Baty and Dom Cordell, are taking the music world by storm.
From regular airplay on Radio One and mentions in NME to playing Reading Festival via BBC Introducing last year, the boys have been busier than your average college students.
The group's addictive latest single Indigo Puff has pretty much been on repeat in the office since we first heard it, and we're nowhere near tired of it yet.
Here's what vocalist Oscar had to say when we caught up with him.
When did you guys form the band?
Haydn and I have known each other since we were nine or 10 years old and formed a few bands together but nothing really happened because we moved to different schools.
That's when I met Dom and Ally who had been in bands together at their old school so I decided to form a band with them. The three of us were just messing around for a bit but realised that we really needed a drummer so we got Haydn in straightaway. We were 14 at this point and I suppose things have just escalated from there.
How would you describe your sound?
A healthy blend of depth and shallowness...
How did the A-level results go?
Results were good I suppose. Except for Haydn as he dropped out of college so he could spend more time with his girlfriend and pursue his career as a part time chef/dishwasher... None of us are going to uni though so they weren't as important for us compared to some of our friends.
Was the decision not to go to uni influenced by pursuing your music?
Yeah I suppose it was but then again I don't think uni has ever been in the picture for any of us.
When did you get involved in BBC Introducing and what made you decide to apply?
When we were fifteen a friend of ours persuaded us to upload one of our tracks on to the BBC Introducing website. It was from doing this that our local BBC intro show hosted by Linda Serck started to take notice of what we were doing.
How does it feel to hear your music played on Radio One?
So surreal! It's definitely something to cross off the bucket list.
What was it like playing Reading?
Again very surreal. All our friends came down and it was them that really made it special for us. That's a show that we will never forget.
Are there any other festivals you'd really like to play?
What bands or artists inspire you?
Literally anything from Fleetwood Mac to Biggie.
What gigs have you got coming up?
We are playing the Oakford Social Club in Reading 24 September and then we are playing London's Barfly on the 25 September. The more the merrier.
What's next for you? Are you working on an album?
I think the idea of an album is always present but there's a few more steps we have to take before we get there. For now let's say another single and perhaps a cheeky EP.