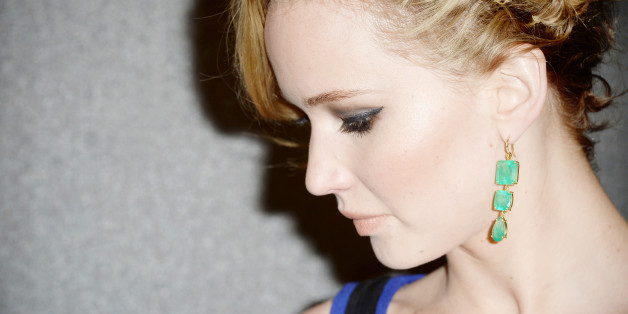 Doug Peters/Doug Peters
If you think you're having a bad day, spare a thought for poor Jennifer Lawrence who is currently acutely aware that millions of people who she has never met have seen her naked, thanks to an anonymous hacker who leaked nude photos of the 'Hunger Games' star online.
READ MORE:
Twitter - who have promised to suspend the accounts of anyone sharing the snaps - went into meltdown in reaction to the news, but some were a little more creative in their response than others.
Here's our round-up of the best memes and tweets on the J-Law naked pics scandal (so far)...
When you find out that your dad hid Jennifer Lawrence's leaked nudes in the attic pic.twitter.com/5FlAH1OEcw

— AbortedNews (@AbortedNews) September 1, 2014
iCloud reacts to Jennifer Lawrence's nude pics pic.twitter.com/VxTiTfR9yA

— Rich Wisken (@RichWisken) September 1, 2014
Trying to find Jennifer Lawrence's nudes?? pic.twitter.com/Tyj2CaPr70

— George Frost (@GeorgeFrost1996) September 1, 2014
"@Vine_Football: Scrolling down twitter last night and seeing Jennifer Lawrence's nudes... https://t.co/ddztnrPlnE" @JoseWolves

— Kristopher Barker (@Kristopher_B) September 1, 2014
Current attitude of Jennifer Lawrence's publicist pic.twitter.com/cwes1E1XXH

— LaurenTenner (@LaurenTenner) September 1, 2014
@RLW_Mole is 1 of 100 celebrities who've been hacked. This nude pic just posted online in the US #jenniferlawrence pic.twitter.com/1mPQy8bjyw

— NRL Trends (@NRLData) September 1, 2014
I thinks I know who leaked Jennifer Lawrence's nudes pic.twitter.com/32cdji0iHb

— YoungSammich (@JobTTShowBiz) September 1, 2014
When you're about to get crucified but you heard that Jennifer Lawrence's nudes were leaked pic.twitter.com/IKyNGjYYzv

— No Chill Bill (@nochillbillnyee) September 1, 2014
"@YABOYYDEQUAN: Jennifer Lawrence's nudes were leaked and now I'm just like" pic.twitter.com/RtQi3gsQbl

— MKOR (@itsMKOR) September 1, 2014
When I heard about Jennifer Lawrence's nudes being released lol pic.twitter.com/5ht4t4gKuQ

— Tony Mendoza (@Myztiko909) September 1, 2014
The internet after Jennifer Lawrence's nudes got leaked

September 1, 2014
LIKE US ON FACEBOOK | FOLLOW US ON TWITTER